Pick whichever option suits you best or just enable them all. You're in control.
Email notifications
Email alerts are enabled by default. Problems we find on your websites are sent to your e-mail address. They're simple, to-the-point and will give you a list of actual things to check.
You can add as many email notifications as you want, each with the type of notifications they want to receive.
If you add your JIRA or other service desks' e-mail account to your notifications, you'll automatically have an internal ticket for follow-up.
If you manage websites for several clients, you can add their e-mail addresses to each site too. That way, your clients are automatically informed.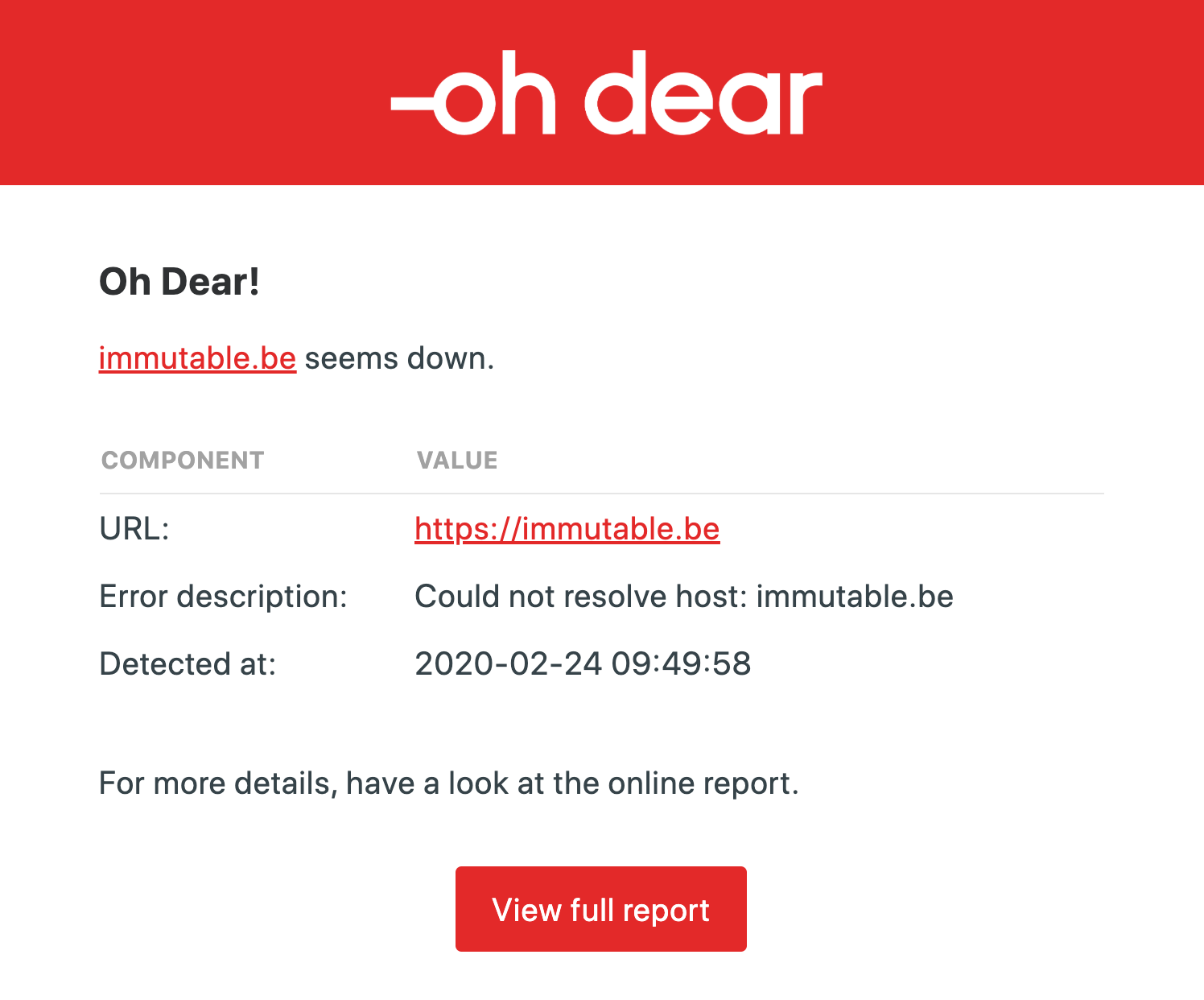 Slack notifications
Add your Slack Webhook in your settings page and we'll send real-time push notifications to your Slack channel of choice to inform you of any issue.
Get notifications for up/down reports, as well as certificate health problems, broken links, mixed content, ...
Every alert contains the right amount of details for you to react swiftly.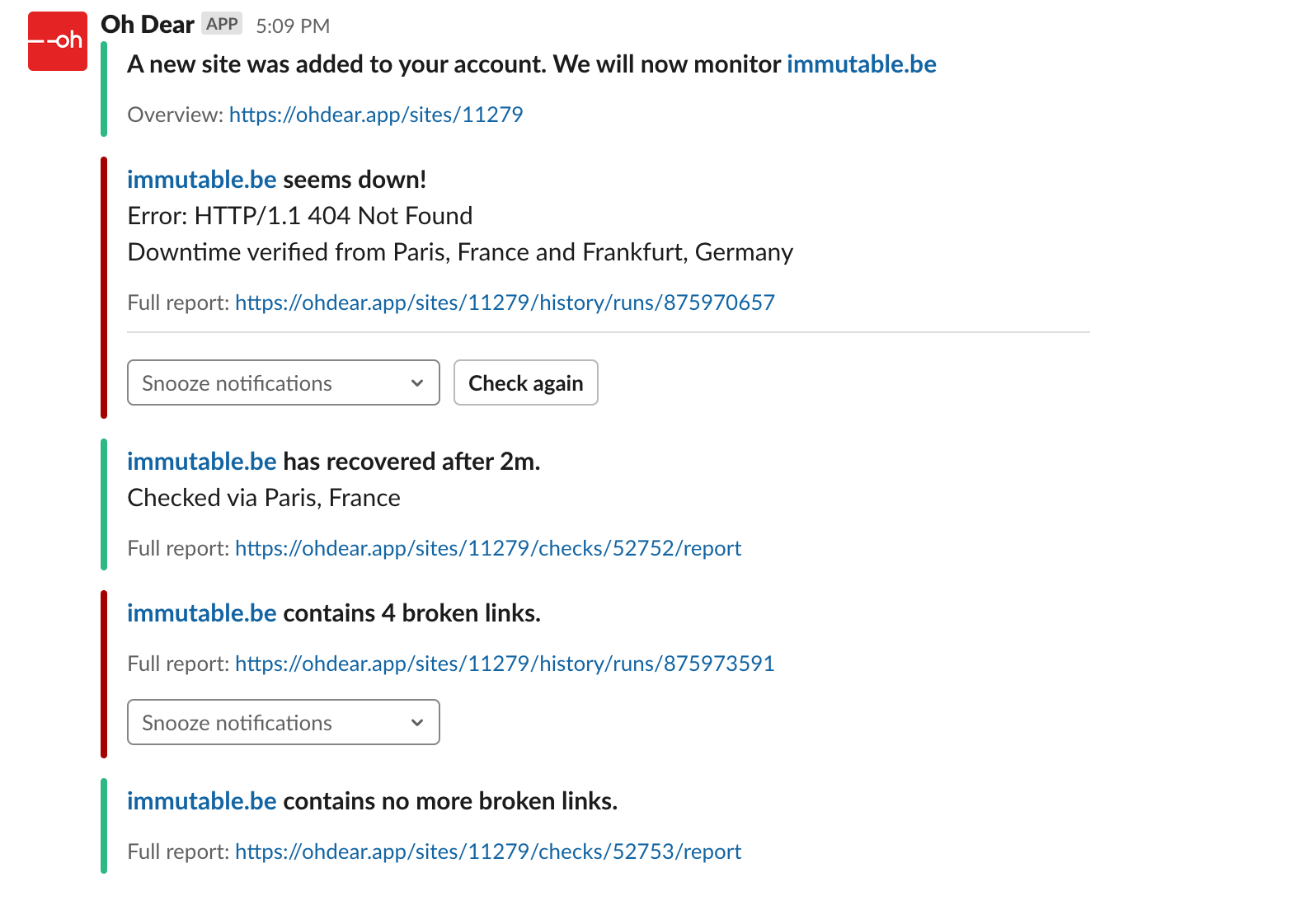 Discord notifications
Discord users will be happy to know that they easily add a Discord Webhook and get notifications in their favourite chat app.
We'll report downtime, broken links & certificate errors straight in your favorite application.
Set up Discord notifications »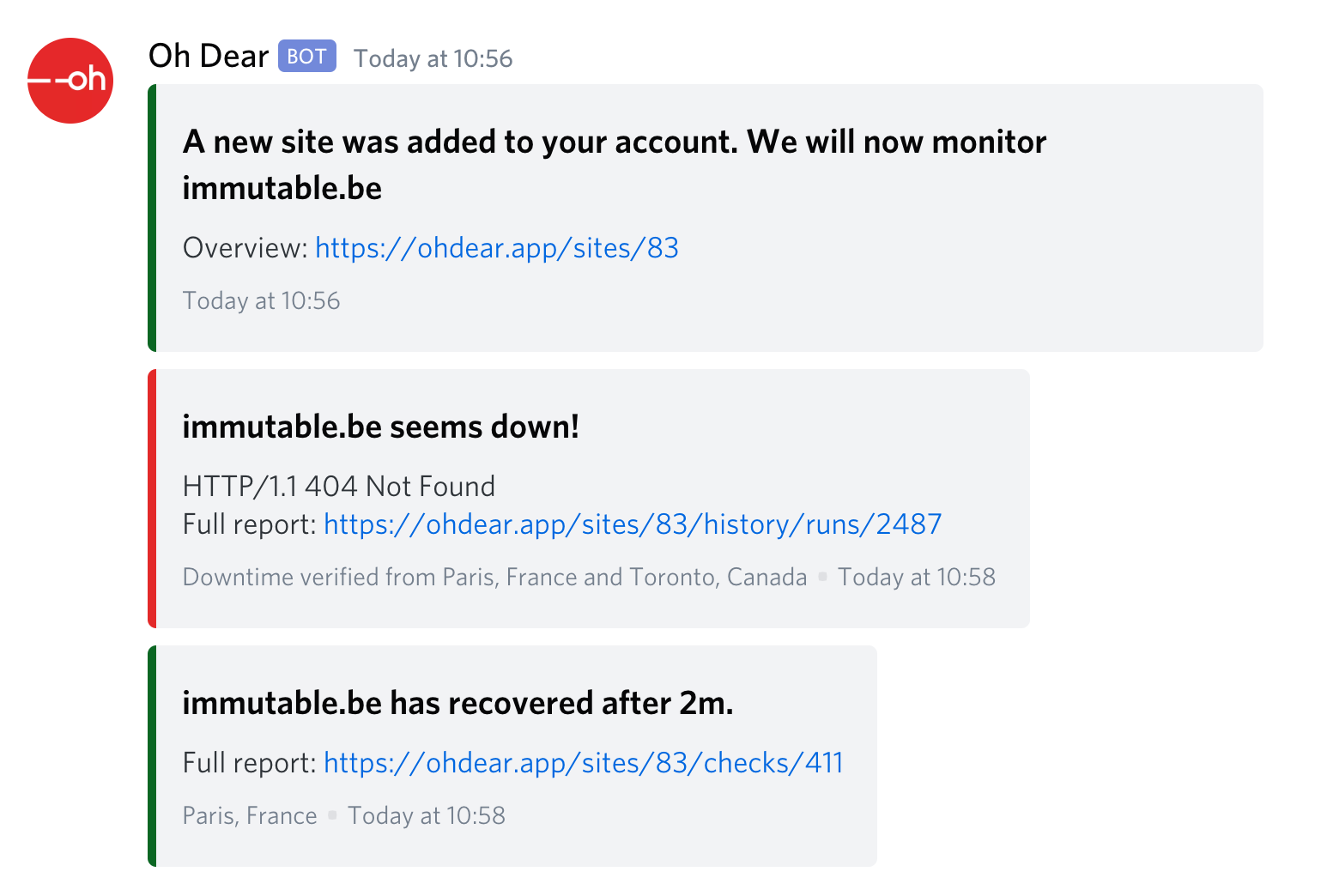 Microsoft Teams notifications
Microsoft Teams users will be happy to know that they easily add a Microsoft Teams Webhook and get notifications that are easily seen by the entire team.
We'll send all notifications straight in a channel in Microsoft Teams.
Set up Microsoft Teams notifications »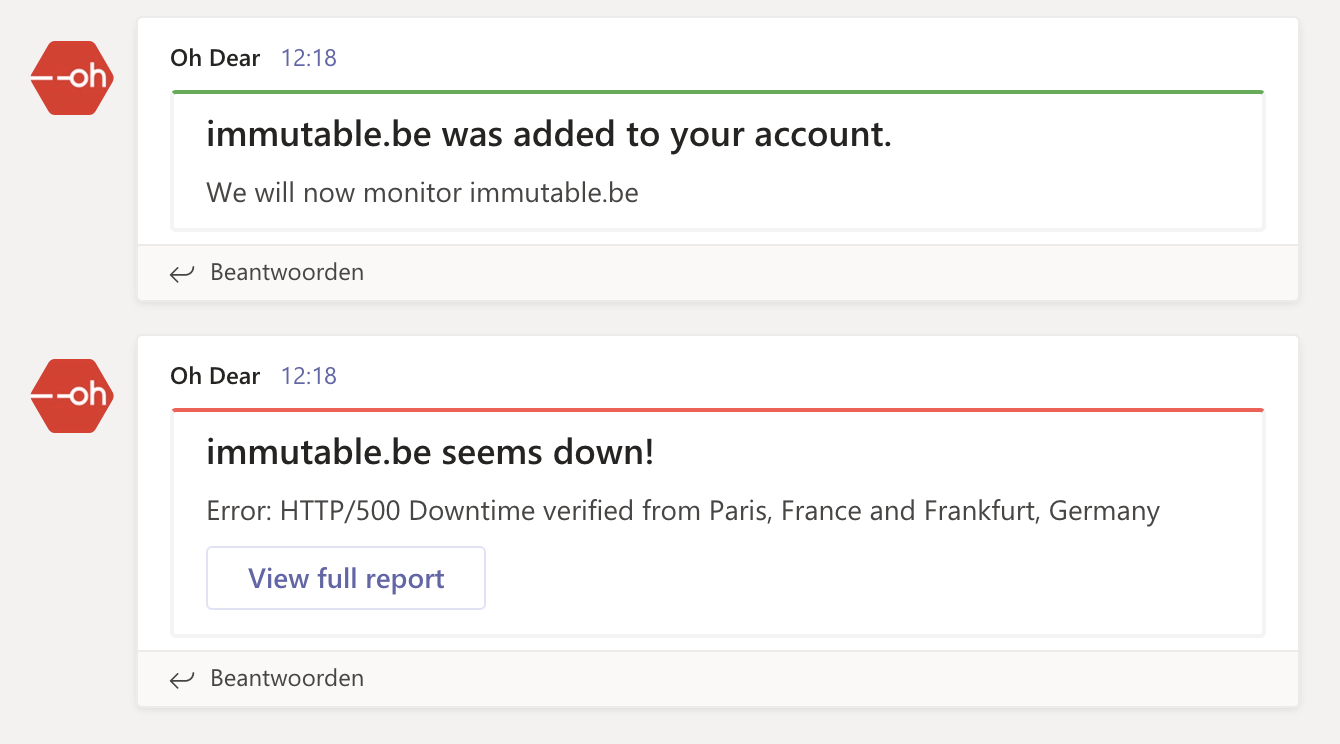 Webhooks
With our webhooks, you can link Oh Dear with any other service. All data is securely encapsulated in a POST call to an HTTP(s) endpoint you control. And we've got extensive documentation to help get you started.
Webhooks are cryptographically signed, you can validate that the data hasn't been tampered with.
Webhooks are a great way to pass data from Oh Dear to any other application!
Pushover notifications
Notifications in iPhone, Android & Windows Mobile can be configured via Pushover. Want them on your desktop as alerts instead? That's covered too.
With Pushover, you can get notifications on pretty much any platform you'd like.
Their easy-to-use application allows you to set custom sounds for alerts, configure priorities, ...
Set up Pushover notifications »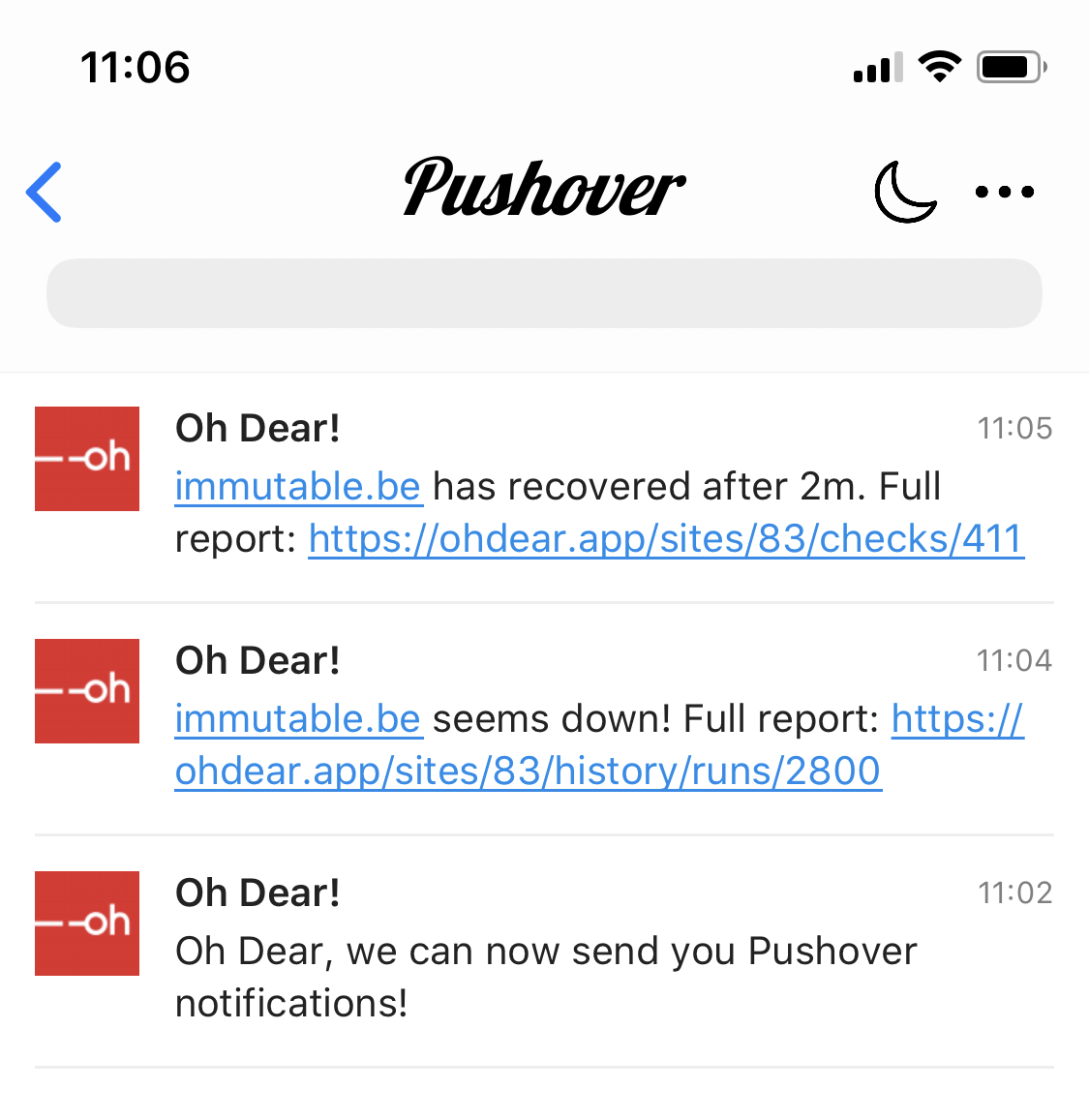 SMS notifications
Want notifications via SMS? No problem! We can send SMS alerts via Vonage. You link your Vonage account to Oh Dear and you're all set.
Through Vonage, you'll have extensive options to route the SMS's any way you see fit.
The SMS notifications are a powerful alternative to internet-based services like Slack, Discord or webhooks - they provide an out-of-band method of receiving critical alerts.
You can configure Oh Dear to only receive the up/down alerts via SMS but still keep the broken link alerting via email or any other medium!
Set up SMS notifications via Nexmo »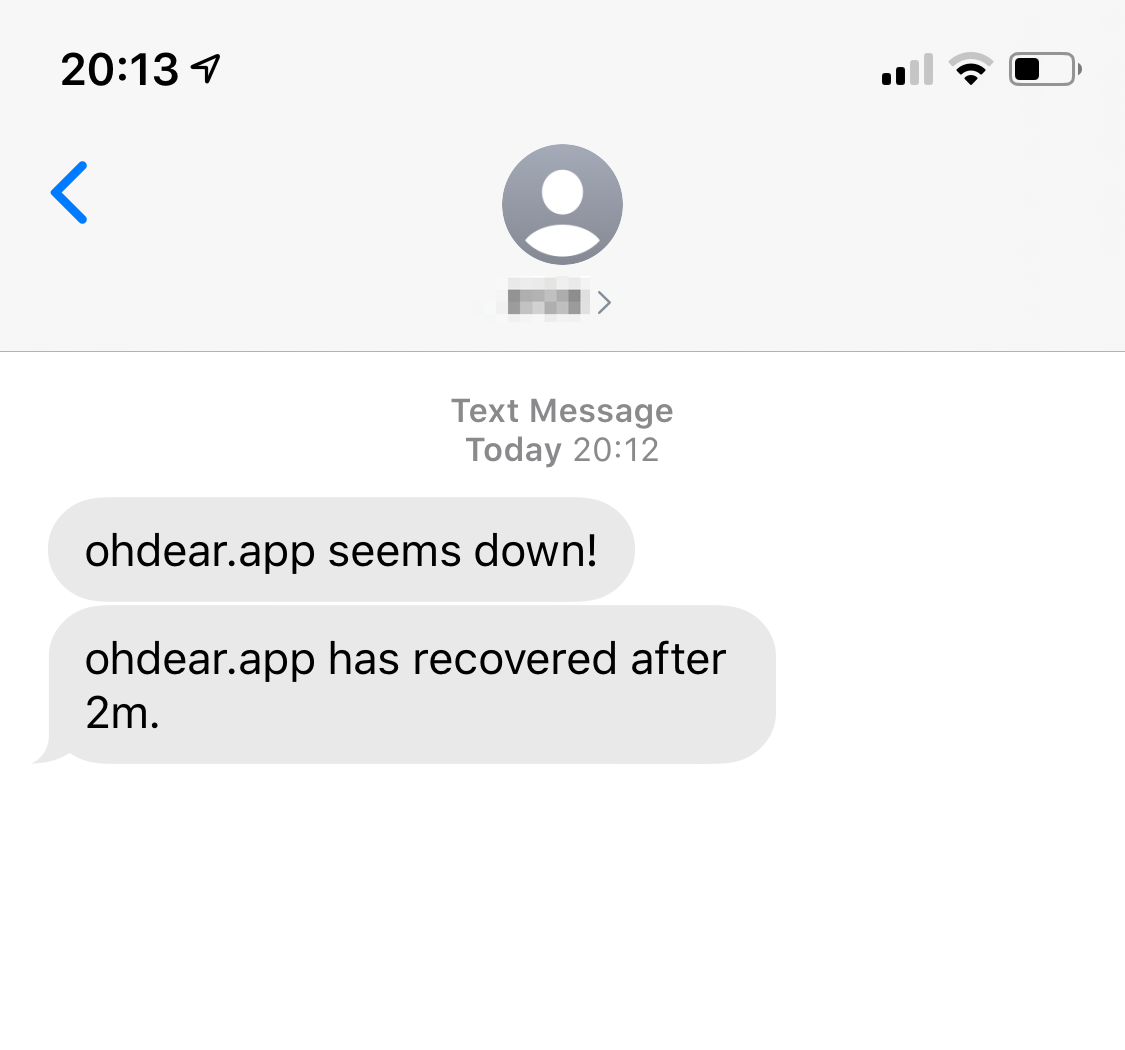 Customizable alerting
You can tweak your notifications just the way you like.
Enable or disable checks, add new recipients, you name it. These filter options are available for every type of notification (Slack, Discord, ...).
You can add additional notification targets per website. This allows you to add your clients' email address or Slack webhook for specific websites.