Introducing monthly site reports
Today, we're introducing a new major feature: monthly site reports. In such a report, you get a bird's eye summary of everything we know of a site in a particular month.
We've gone the extra mile and added the ability to mail these reports to people outside of your team automatically. If you're an agency and manage sites for your clients, you could use this feature to send a monthly report of all broken links to your client.
In this blog post, we'll tell you all about the feature.
What is a site report
Since Oh Dear was launched in 2017, we've been sending monthly uptime mails to all our users. In these emails, we list every site we monitor for a user and its uptime percentage for the past month.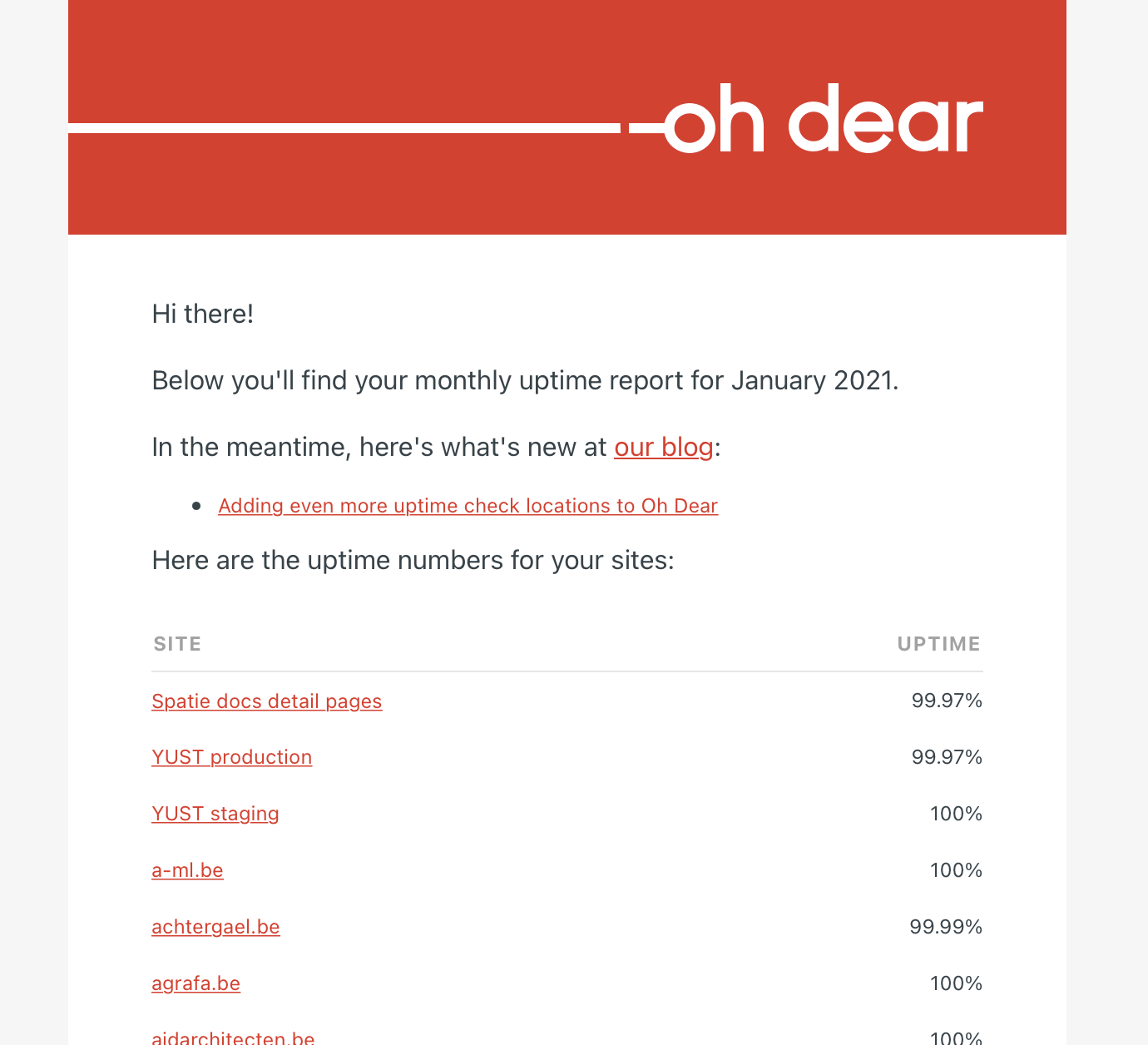 Our users seem to love the monthly uptime mails. They don't have to actively log into Oh Dear to see how their sites are doing. We sometimes get responses from clients who are so happy that we reported 100% uptime for all their sites.
But why only mention the uptime percentage? Wouldn't it be nice to have a summary of all checks we perform? Starting from next month, our monthly mail will also, for every site, include a link to a full report that summarises everything that happened at that site.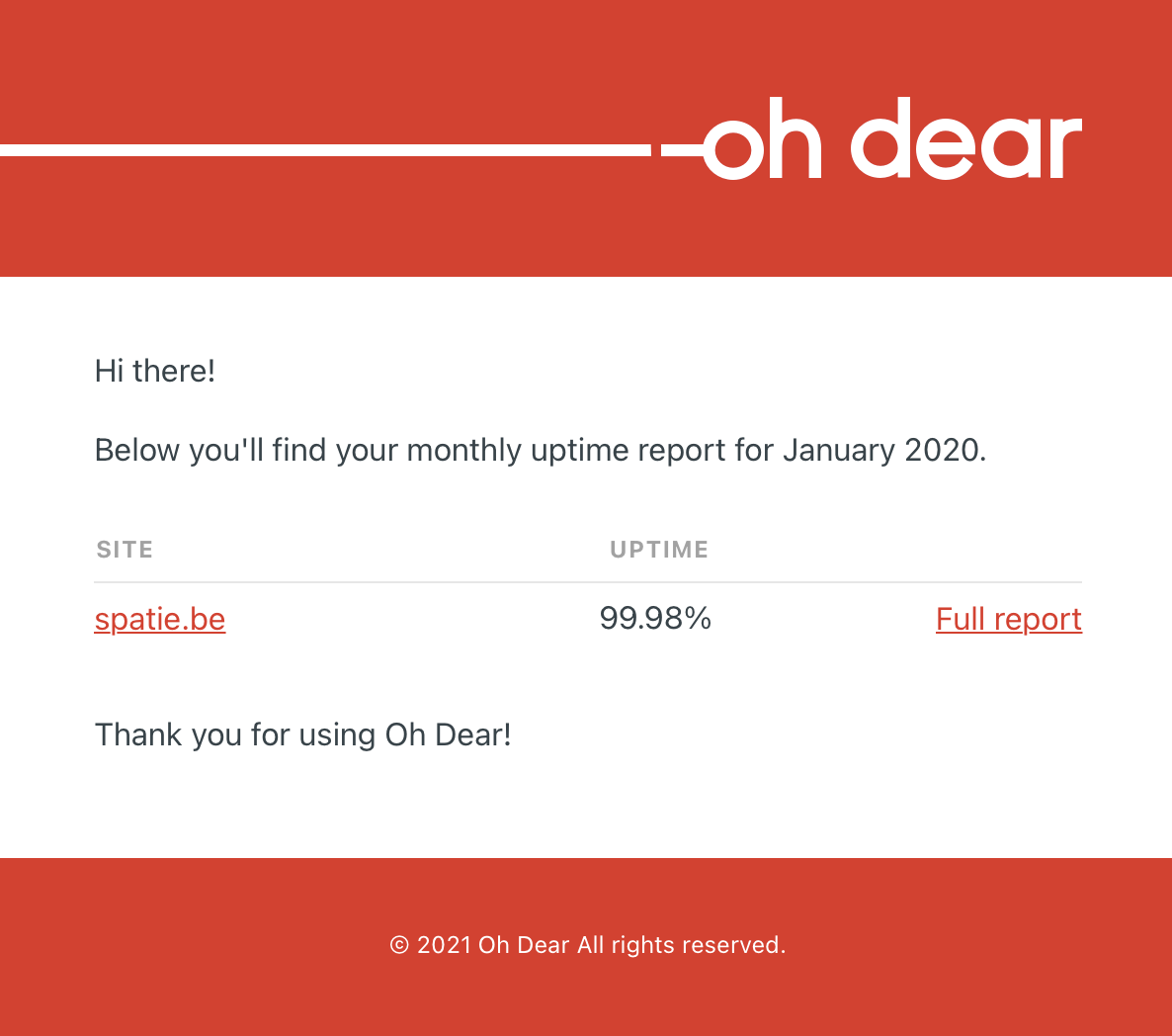 Here's what such a report looks like.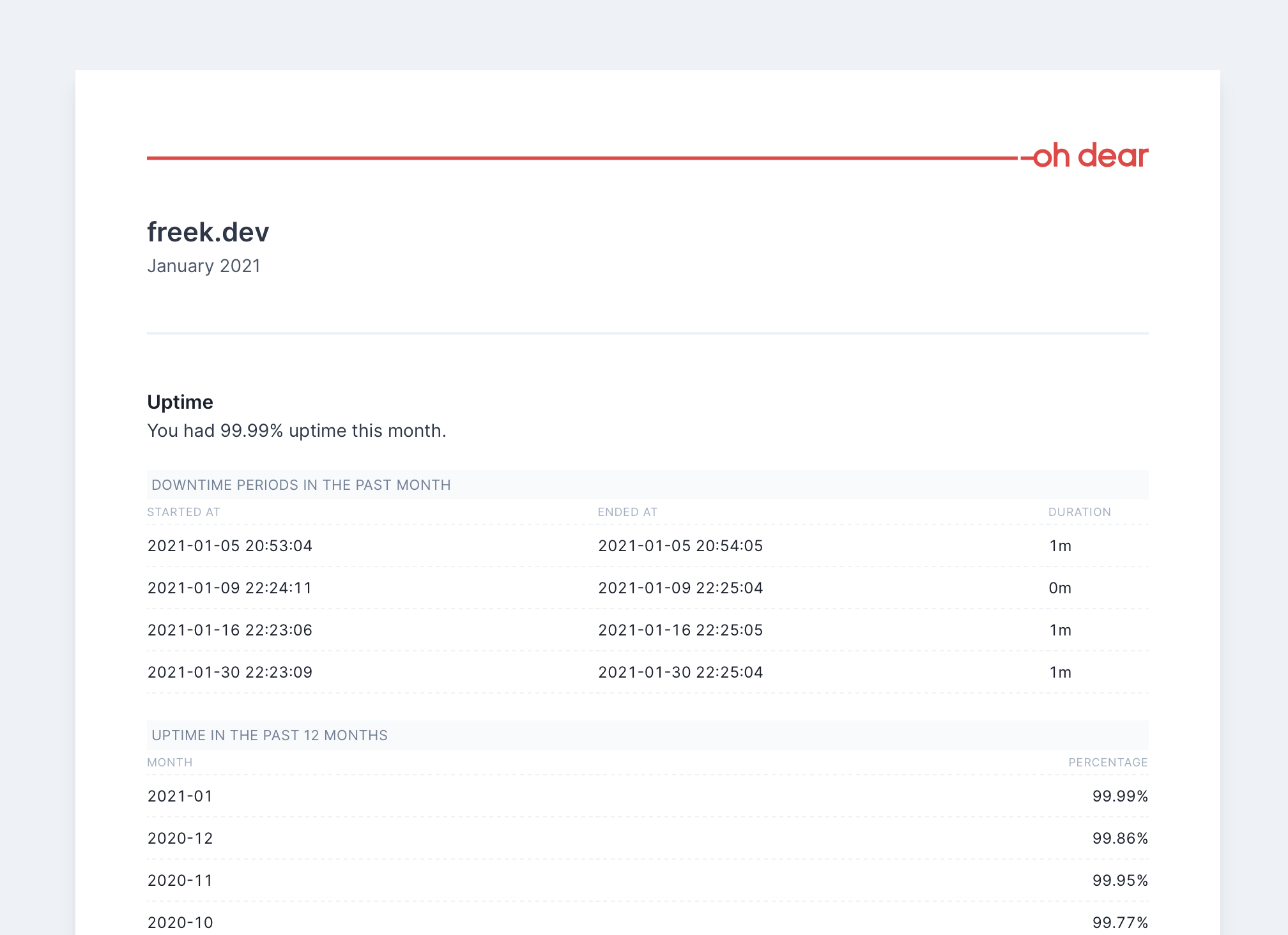 In the screenshot, you only see the uptime statistics, but the report contains a performance report, a list of all broken links and mixed content and more, ...
Here's an actual report so you can see what it looks like in the browser.
You can also view a report and all past ones, in "Past reports" tab of a site.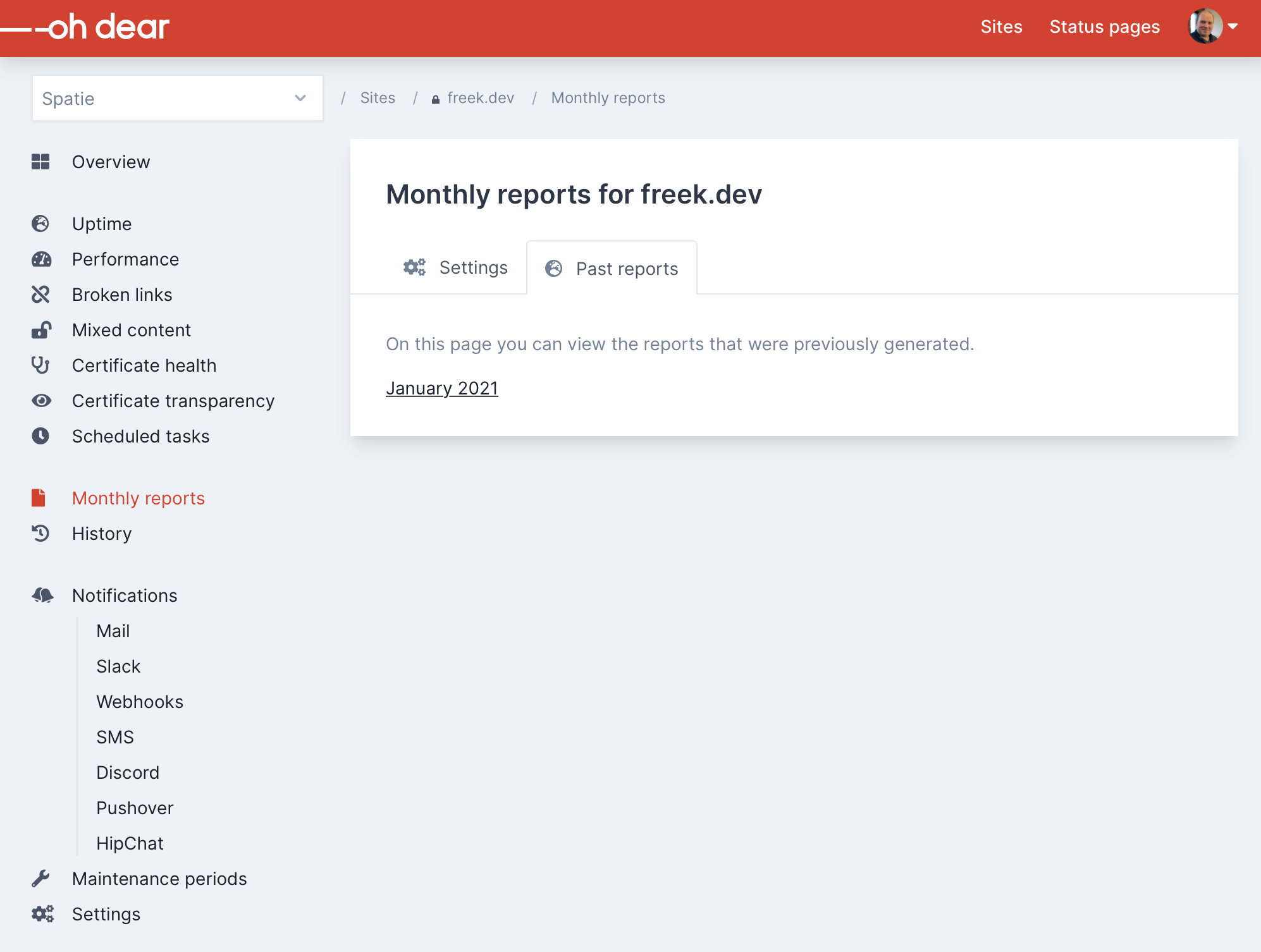 Automatically mailing site reports
We figure that some of our clients want to send a report for a particular site to somebody that is not an Oh Dear user.
For example, if you run an agency, you probably handle websites for your clients. Wouldn't it be nice if you could send an uptime report, or a report mentioning all broken links to your client?
On the "Settings" tab of monthly reports, you can specify a couple of e-mail addresses to automatically send monthly reports to. You can even specify what information should go in the report.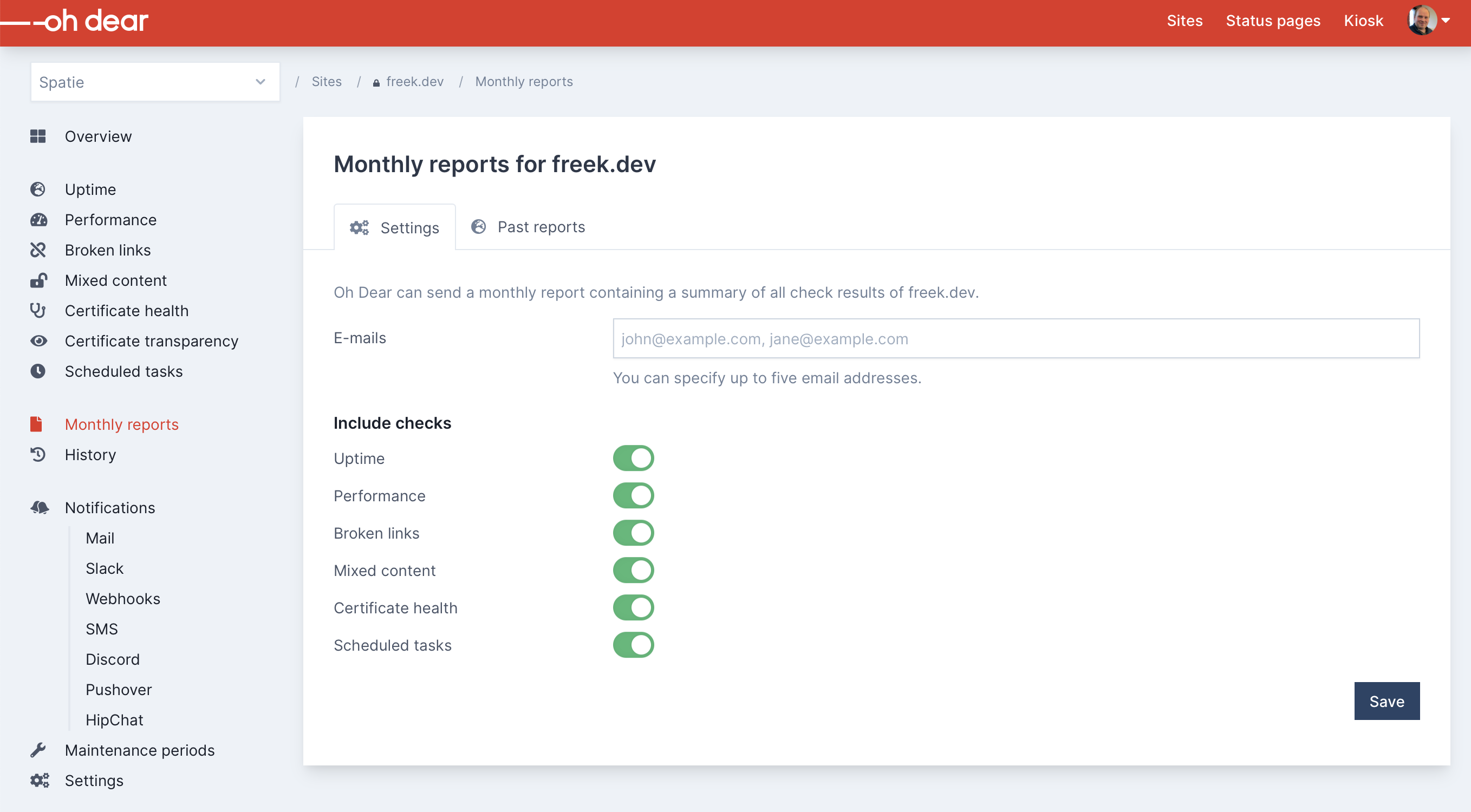 Reports without logging in
These reports are available to anyone that received the e-mail or the direct link. You don't need an Oh Dear account to view them.
Behind the scenes, it's using signed URLs (much like our action links in notification emails that provide a secure and convenient way to view the report without having to log in.
In closing
We think these new site reports will be a welcome addition for our users. We regularly add new features to Oh Dear, but still keep the service easy to use. Here's a list of all the things we improved on Oh Dear in the past year.
If you have any questions or feedback, let us know!