How we improved our service in 2021
We launched in January of 2018, and not a year has gone by where we made significant improvements to our service. Last year we wrote a recap of everything that we did in 2020. With the end of 2021 quickly approaching, let's take a look at all the things we did in the past 12 months.
Adding more uptime check locations
As Oh Dear is gaining popularity, we see that new users come from all continents.
An uptime checker server does the uptime check and performance measurement. For each site, you can pick the location of the uptime checker service that we should use for your site.
In January, we added more uptime check locations and improved capacity:
Asia: Seoul & Singapore
US West: San Francisco & Los Angeles
Middle-East: Bahrain
United Kingdom: London
South America: Sao Paulo
Africa: Cape Town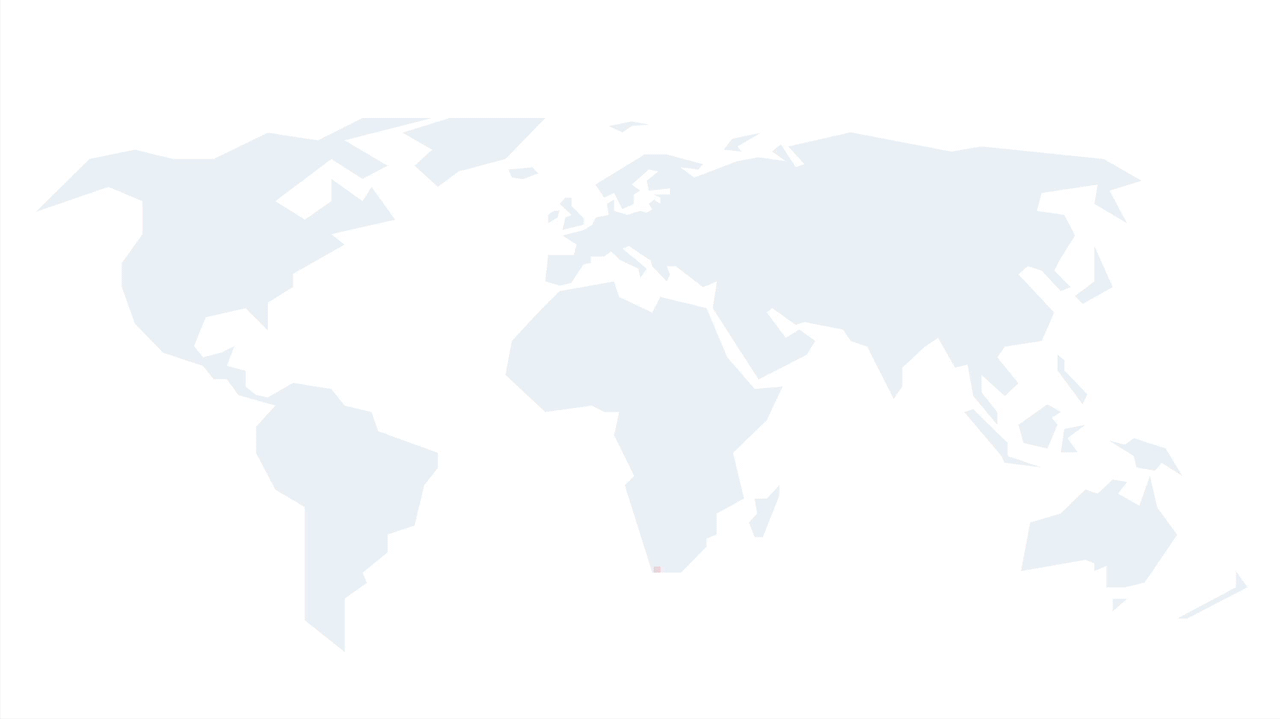 Our most popular ones still include Europe (Frankfurt is #1, Paris is #2), with Dallas (US mid) at a close #3.
Introducing monthly site reports
In February, we've added a monthly site report. In such a report, you get a bird's eye summary of everything we know of a site in a particular month. These reports can be mailed automatically at the end of every month to people outside of your team. If you're an agency and manage sites for your clients, you could use this feature to send a monthly report of all broken links to your client.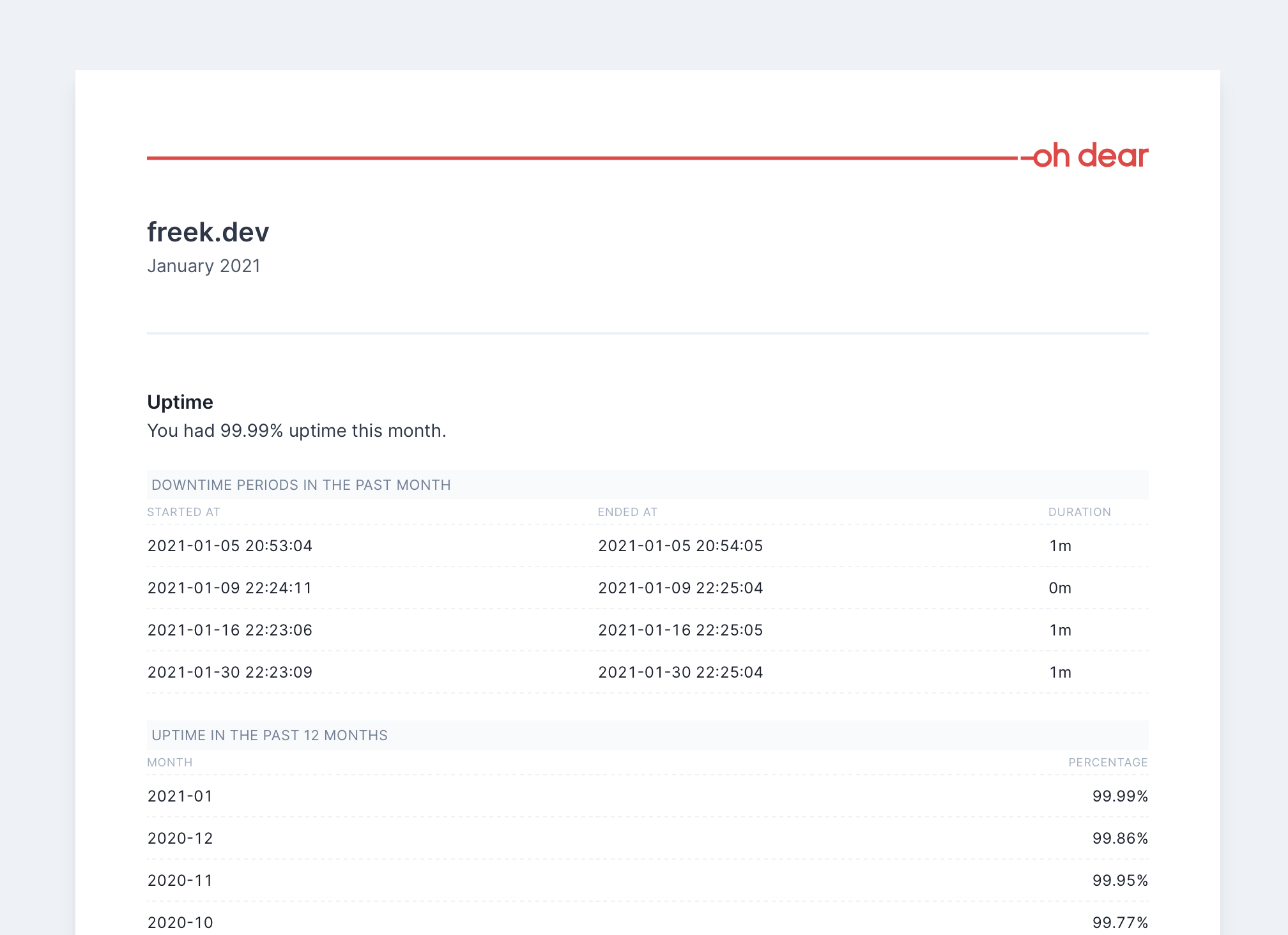 Snoozing notifications until the next workday
Still in February, we added a minor feature: snoozing notifications until the next workday. This way, we won't interrupt your evening and weekend with reminder notifications.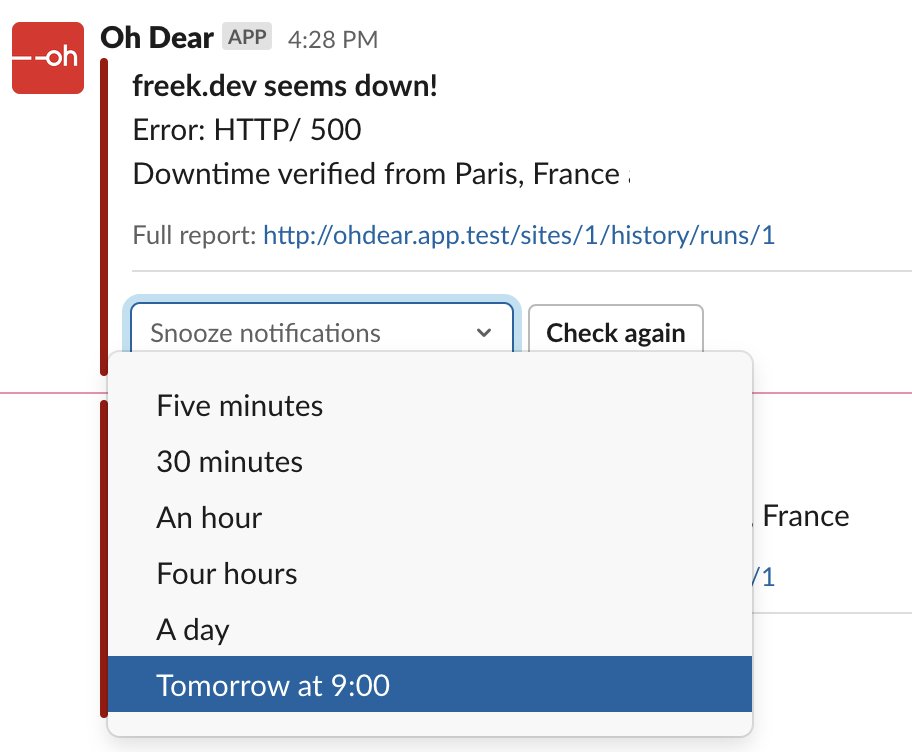 Adding support for Microsoft teams
At the end of February, a group of our users asked for support for notifications for Microsoft teams, so we added just that.
A new coat of paint for the user, team and billing sections
In March, we revamped the user, team and billing sections.
Here's how the new team section looks like: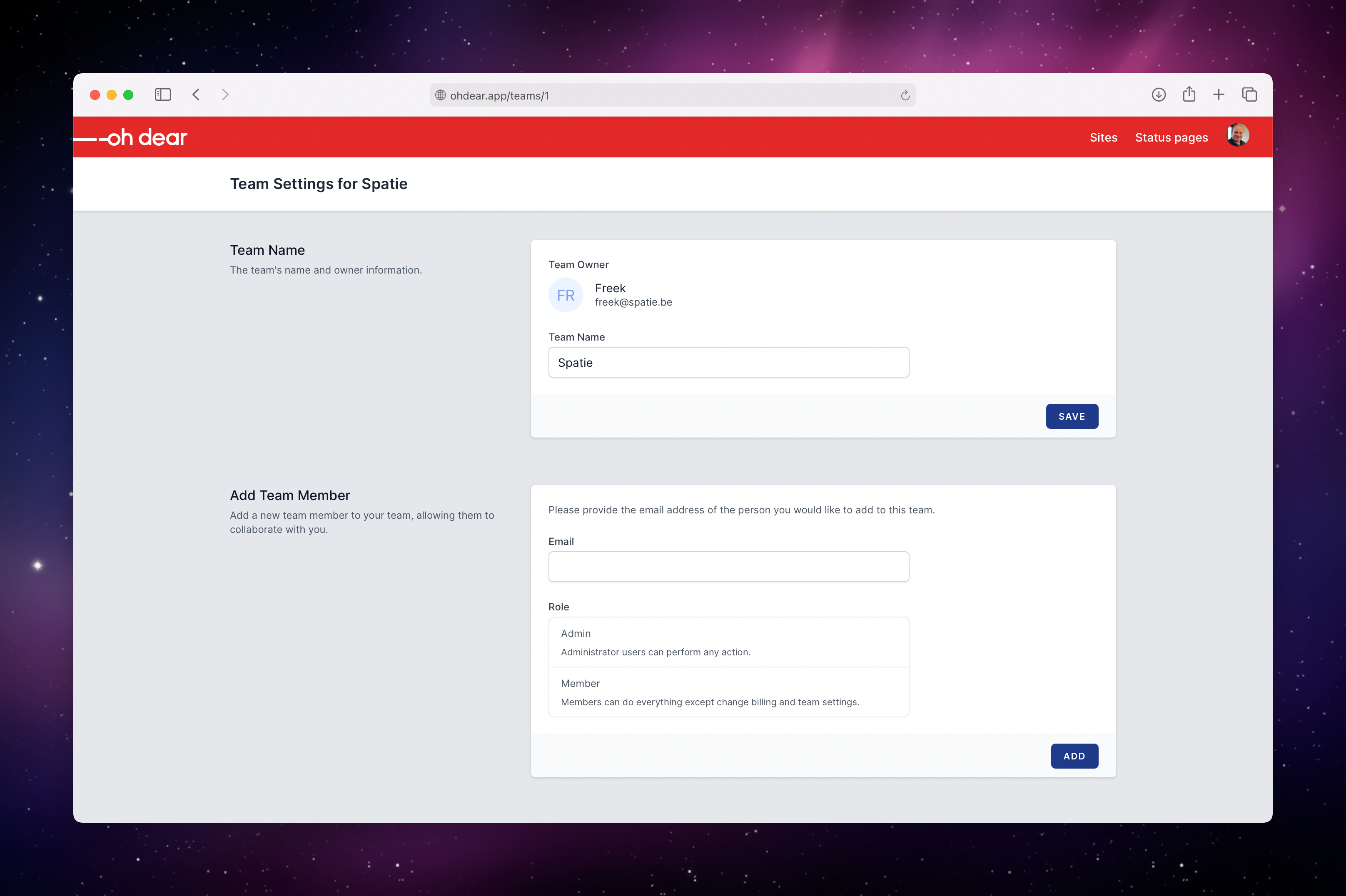 We also added support for multiple invoice recipients, a new admin role for your team, and improved two-factor authentication.
Private status pages
In April, we've added the ability to mark status pages as private, guarding them against the outside world unless you have the secret passphrase.
Grouping sites
Teams that monitor many sites requested a way to group related sites. So, in early May, we added that feature.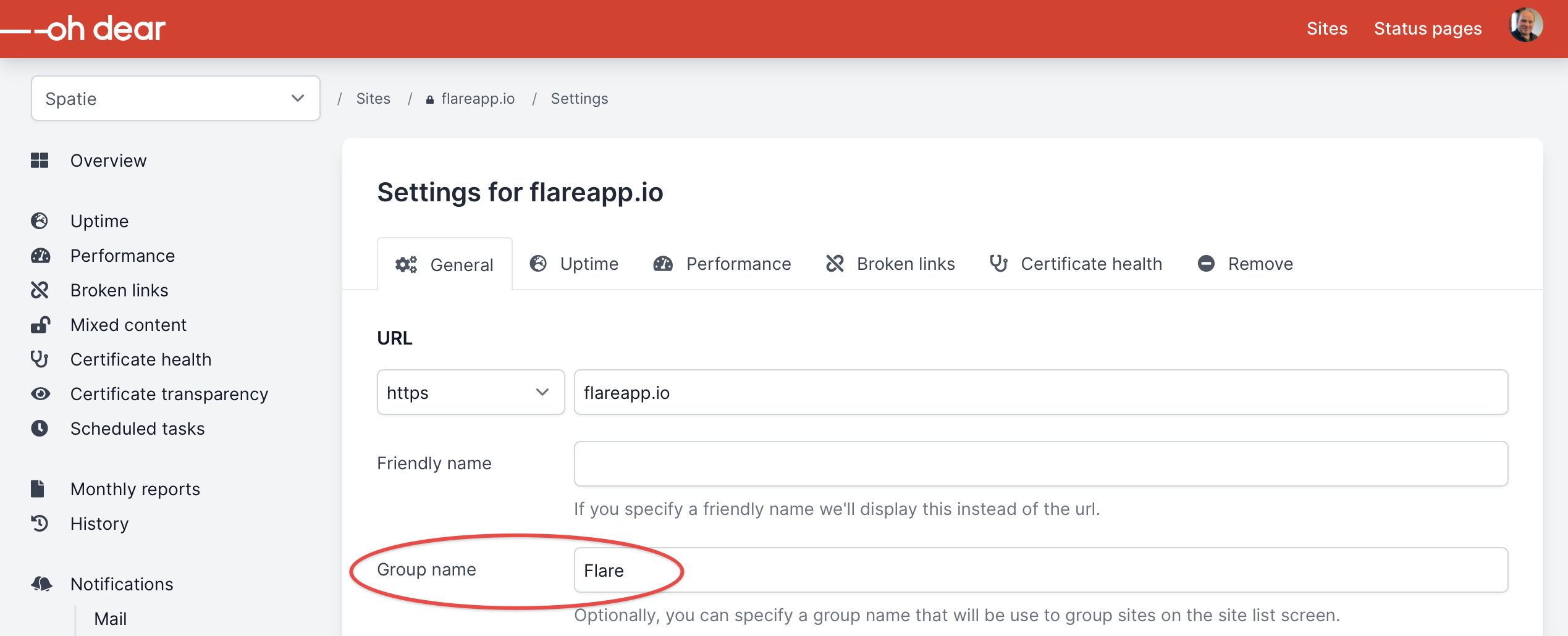 Advanced user management and guests
For larger teams, we added more improvements in early May.
First, we introduced a new guest role that cannot add sites to Oh Dear.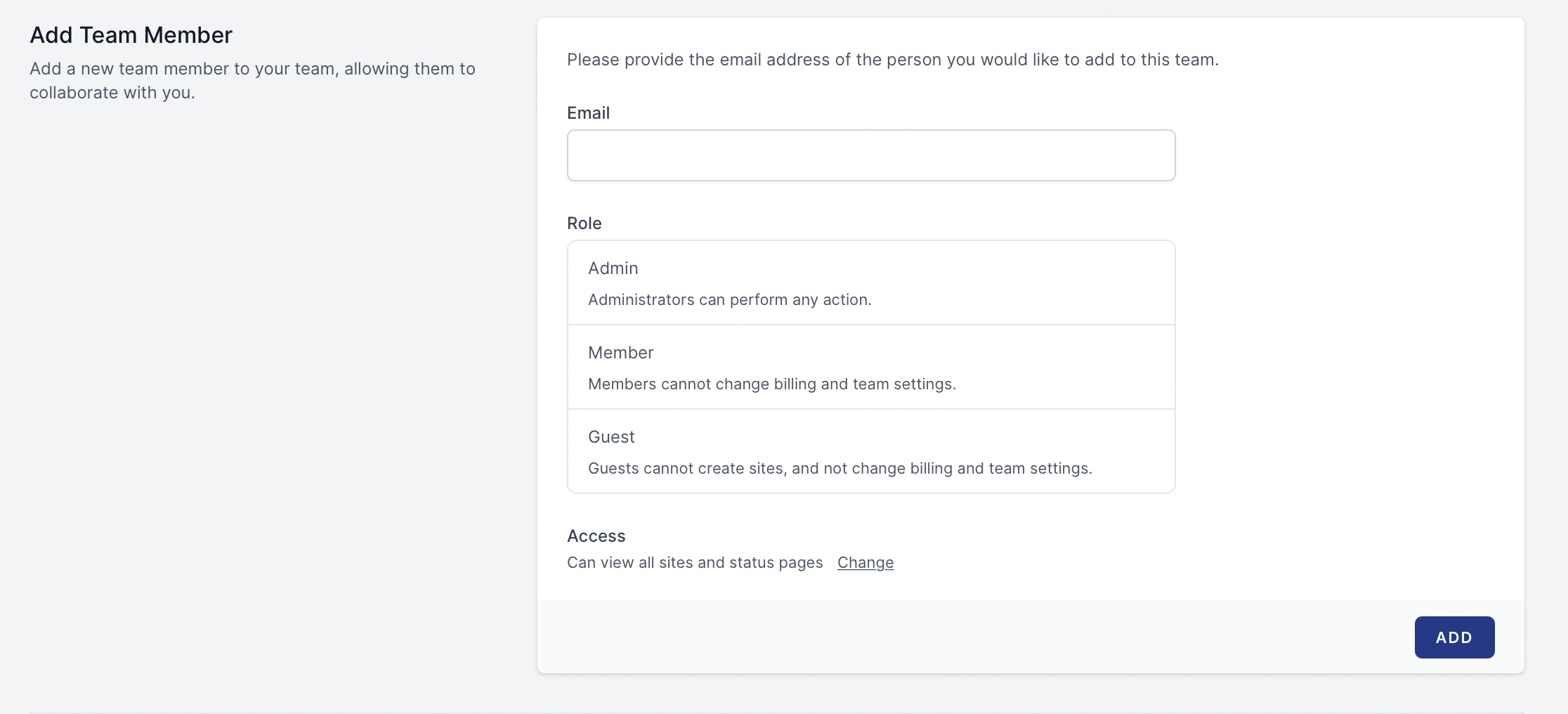 Secondly, you can also choose which sites and status pages a user should have access to.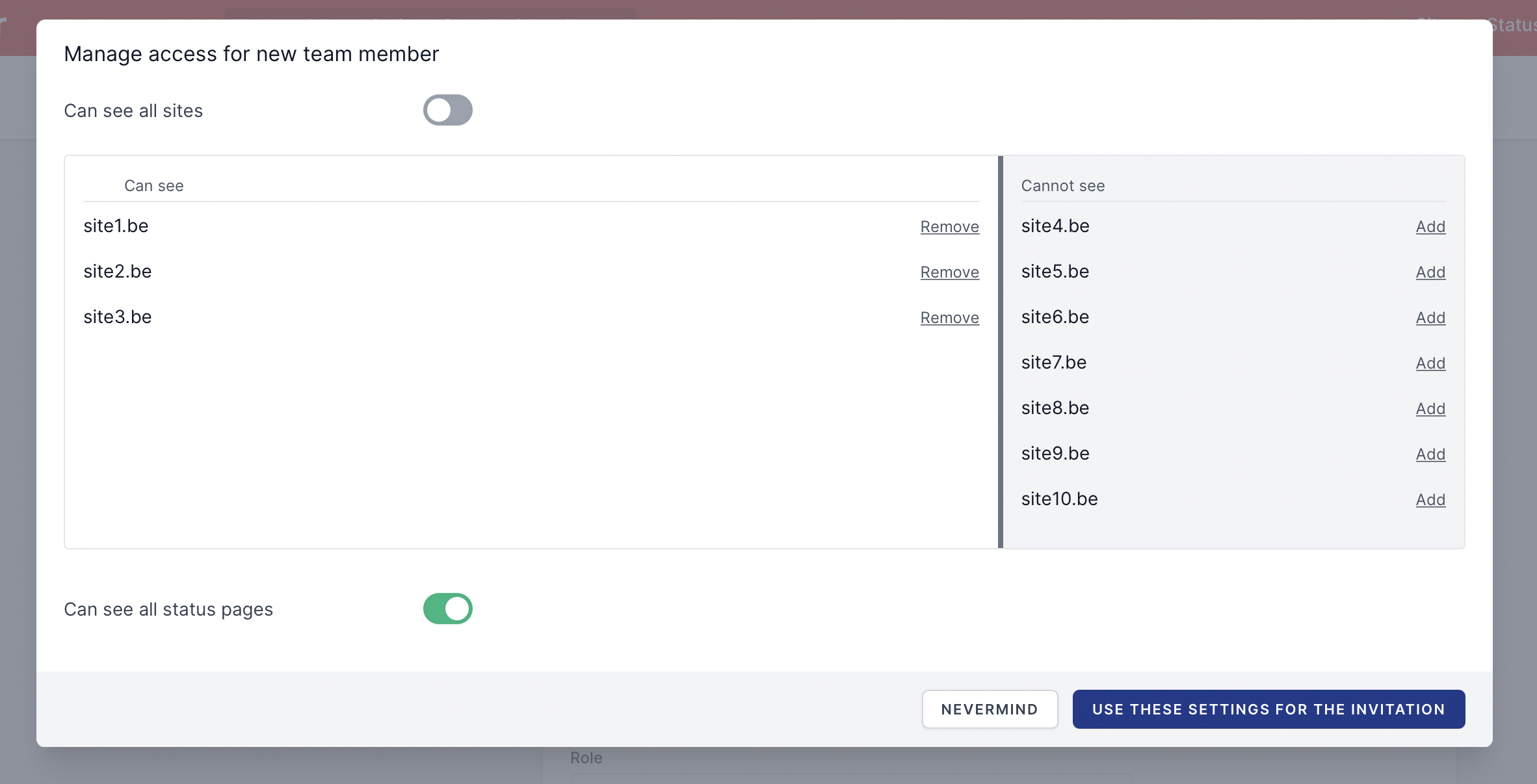 Priority messages in Pushover
We have supported Pushover since we launched a couple of years ago. In August, we've added a nice option that several of our users asked for: setting the priority.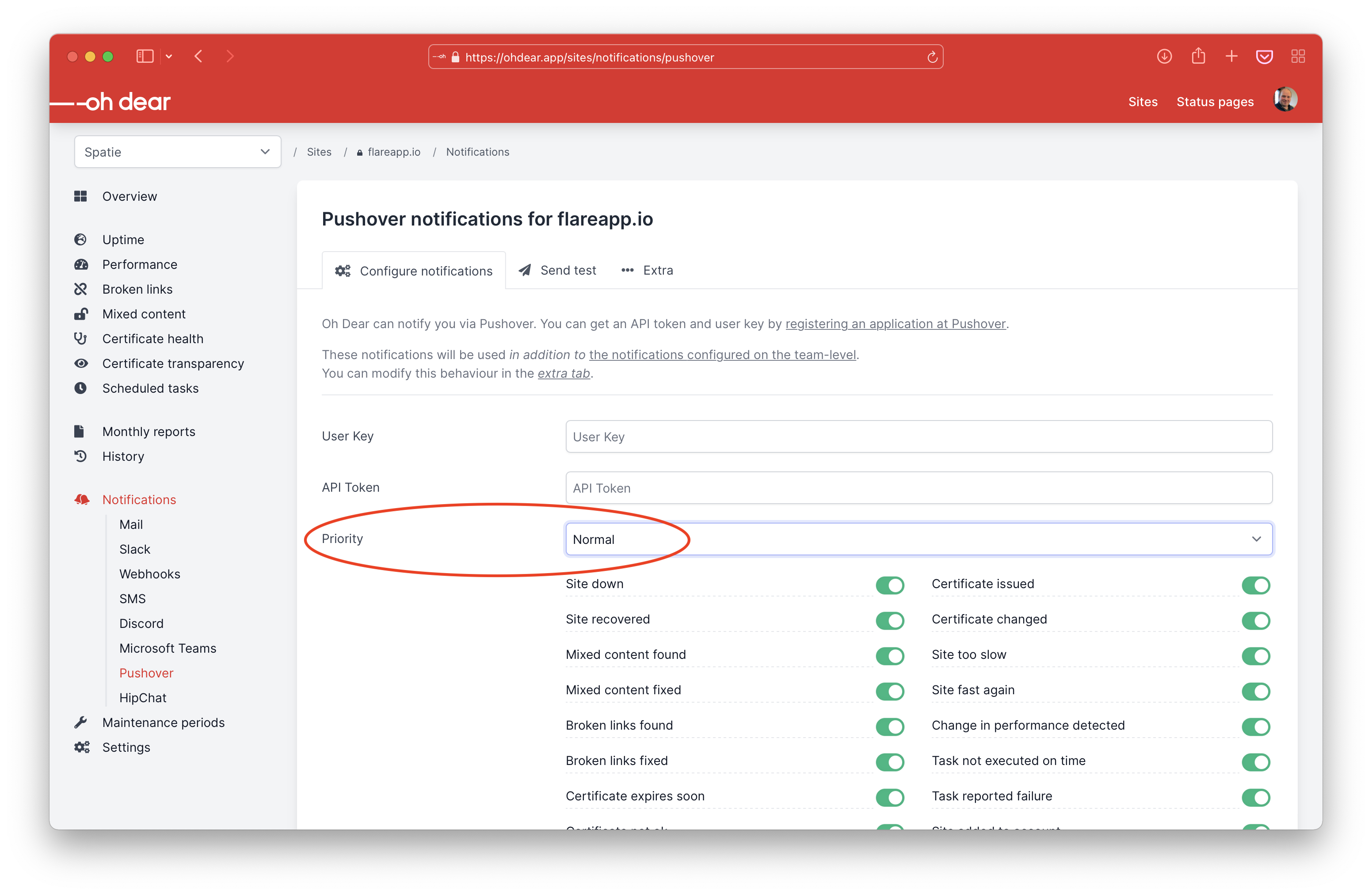 Introducing our new support bubble
After the summer, we introduced a little support bubble at the bottom of every page to make it easier for our users to pass us feature requests and report bugs. When you click the support bubble, a form opens to send us a mail quickly. Here's what it looks like.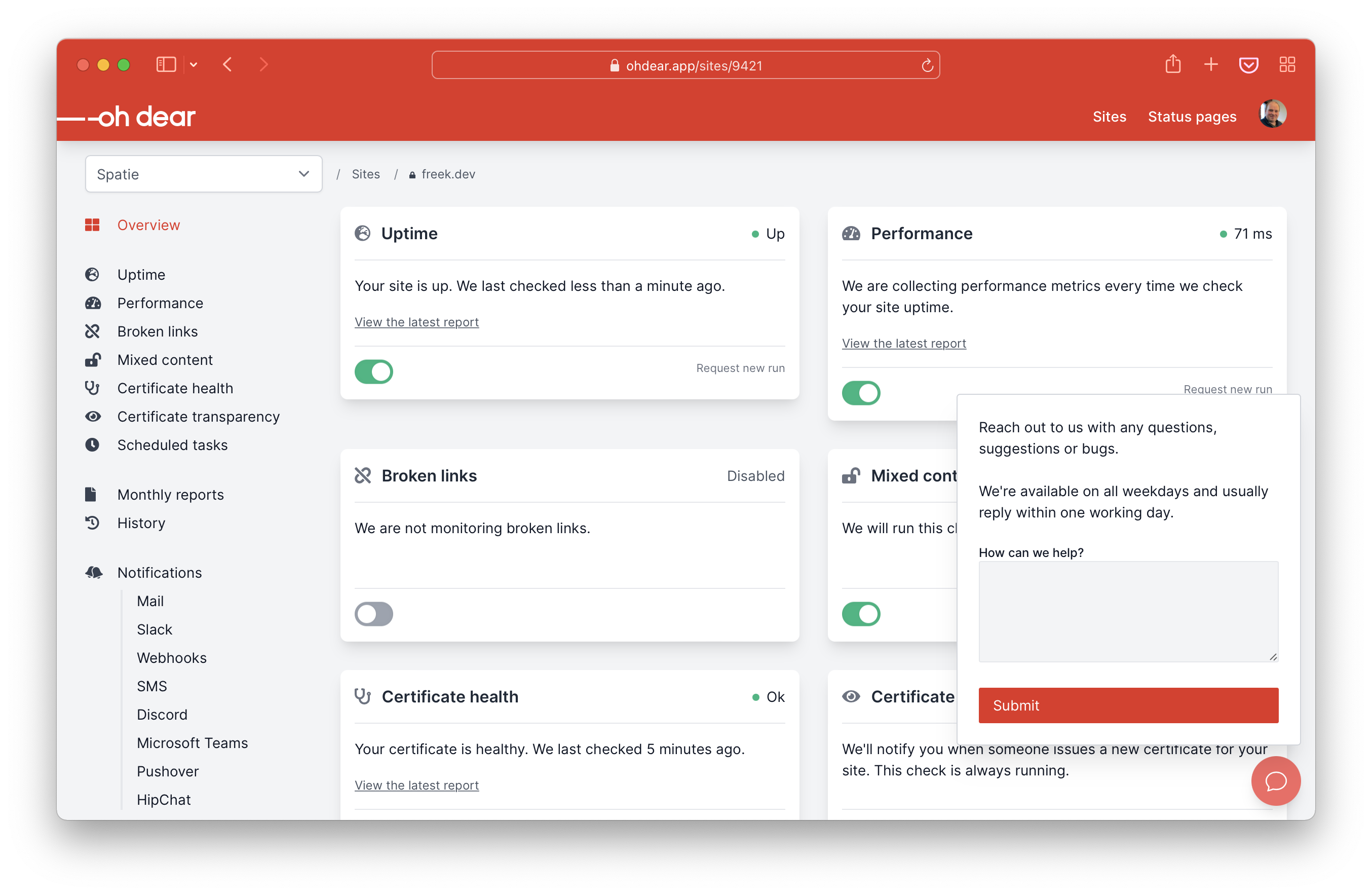 Monitoring password protected sites
In September, we added the ability to easily monitor password protected sites using our new "Expected response status codes" setting. Using this setting, you can specify which status codes Oh Dear should consider ok.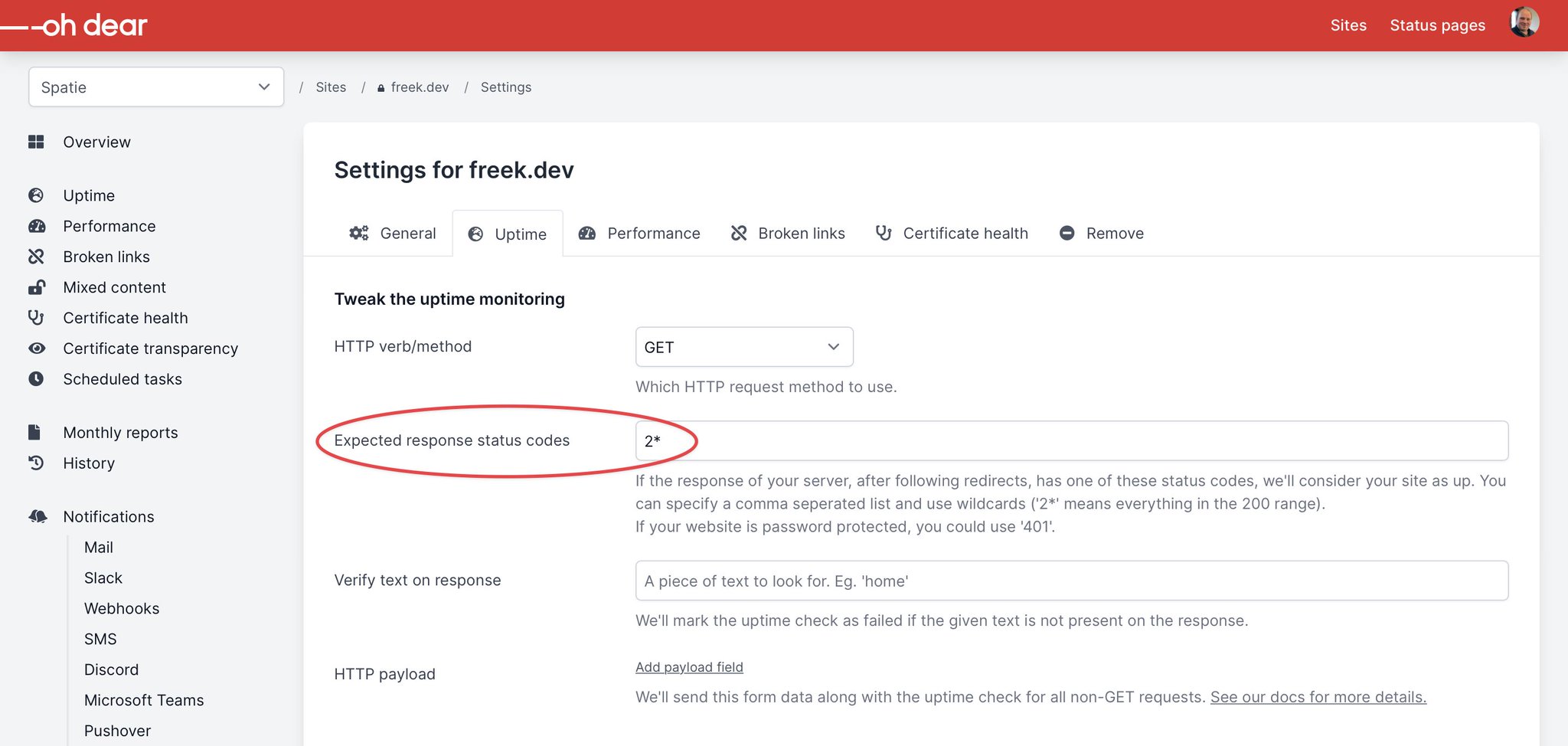 By default, this setting is set to 2*, which means everything in the 200 range is ok. For a password-protected site, you could set this to 4O1.
Refactoring for performance
One of the most significant improvements this year wasn't user-facing. End of September, we deployed a much more performant version of our application. Behind the scenes, the optimised codebase performs a lot fewer database queries, which ensures Oh Dear's future growth.
You can read many technical details in this blog post at freek.dev. Recommended reading if you're a PHP or Laravel developer.
Adding support for Telegram notifications
A lot of our users was asking for Telegram support. In early October, we added it as a new notification channel, and we went the full mile and made those notifications interactive. This means that you can snooze notifications or request a new run directly from within Telegram.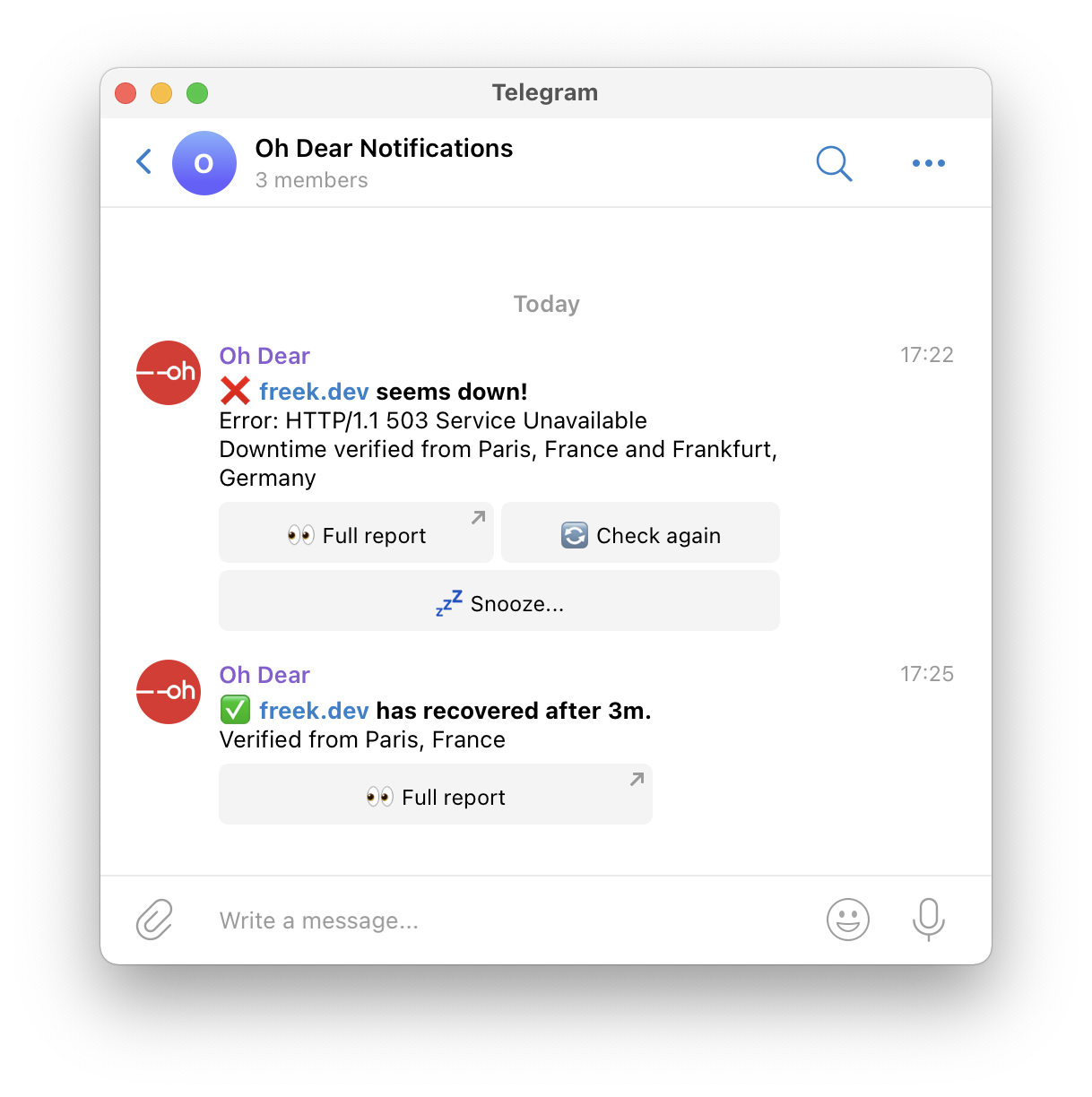 Customising redirect behaviour
In October, we've added a new setting to determine how many times a redirect may happen before considering your site down.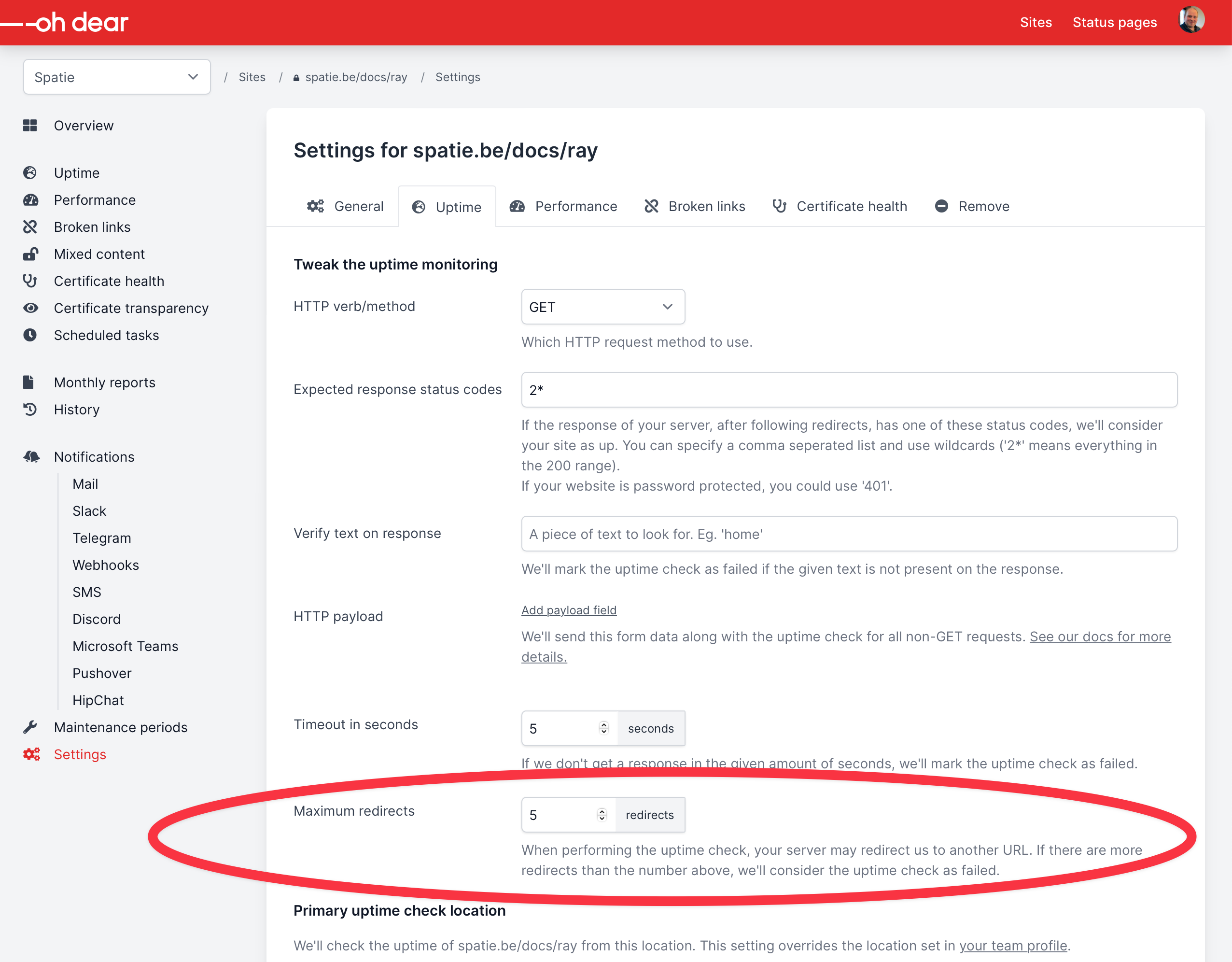 On the uptime check report screen, we list the redirects we detected while running the check.
Monitoring your DNS records
We've saved the most prominent new features for last. In November, we added DNS monitoring to Oh Dear. We can now notify you of changing DNS records and let you know when we've detected a problem with your domain nameservers.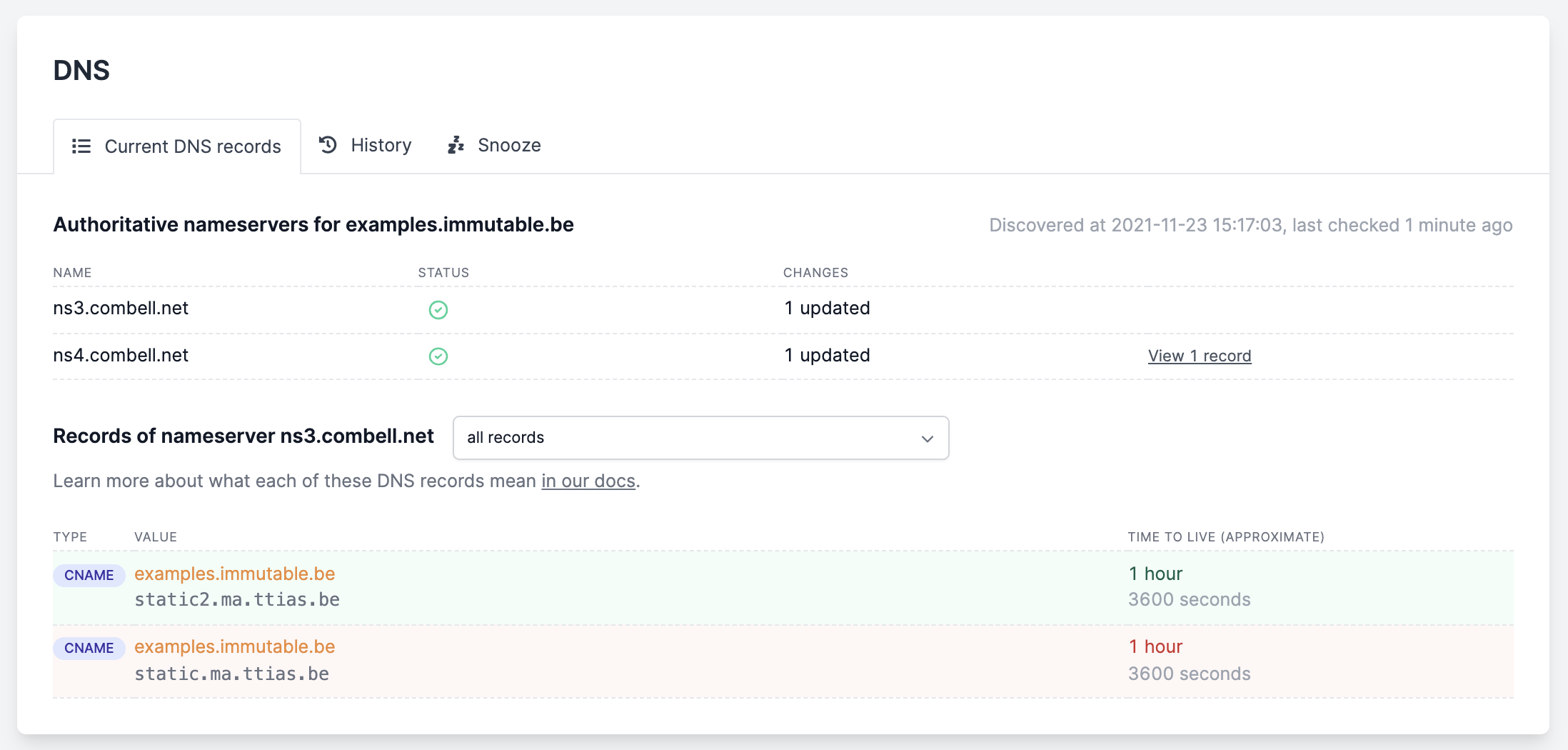 Monitoring the health of your application
Closely after DNS monitoring, we added another major feature: application health monitoring.
Using Oh Dear, you can now monitor various aspects of your application and server. This way, you could get alerts when:
disk space is running low
the database is down
the load on your server is too high
Redis cannot be reached
mails cannot be sent
...
What's in store for 2022?
One thing that we can already share is that we are going to revamp our entire user interface. Our UI has stayed more or less the same since we launched, and after four years, it's time for a big refresh. These screenshots are still a work in progress, but they give you a little taste of how Oh Dear will look like early next year.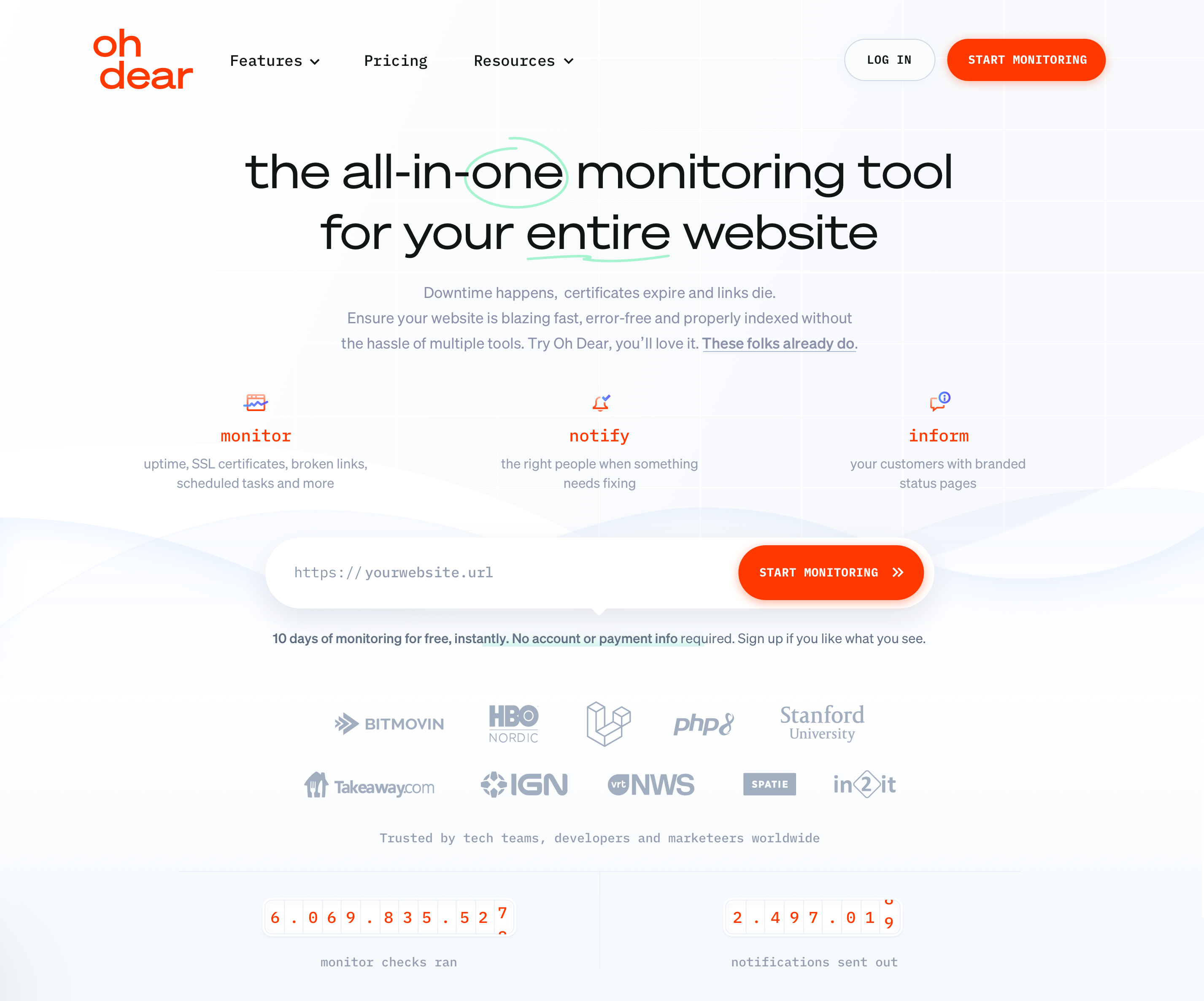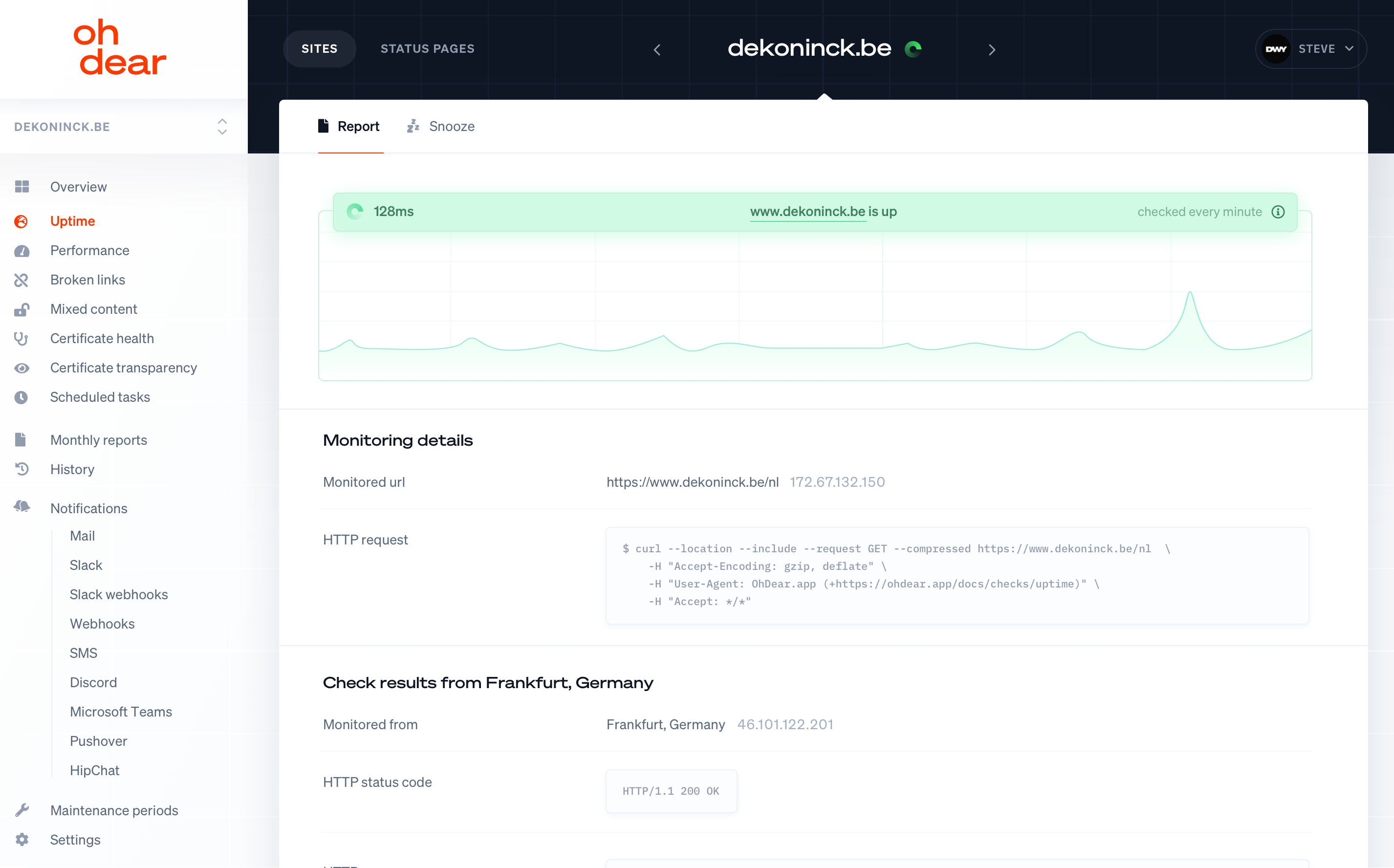 Should you have any suggestions to improve our service, do let us know. There's a little bubble in the bottom right of this page. We're listening!