Oh Dear! integration in Tideways
We've partnered with Tideways to highlight application downtime within its PHP Profiler. This will allow you to easily correlate downtime events with your application exceptions being thrown.
About Tideways
Tideways is an advanced PHP profiler that has quickly become a must-have for a PHP developer interested in gaining insights into their application performance, exception handling and error detection.
The powerful profiler allows you to get detailed knowledge of your application bottlenecks with easy access to the full stacktraces and the application drilldown to where the bottleneck occured.
If you haven't tried it yet, you should give it a try - it's immensely powerful.
Correlating downtime events with application performance
Oh Dear! has the ability to trigger up- and downtime alerts to a webhook that you specify. The payload varies per event we fire and gives you the ability to integrate Oh Dear! into pretty much any tool or service.
Tideways finished their Oh Dear! integration by allowing our users to send downtime events to their webhook endpoint. This lets Tideways know when downtime was detected and it can then be visualised right in your Tideways monitoring screen.

The ability to immediately see cause & effect can be a powerful addition to your monitoring stack.
Configuring the Tideways webhook
Integrating Oh Dear! into your Tideways account is super simple as explained by their documentation. In short: you'll find a custom webhook endpoint in your application settings that you can add to the notification options of your application.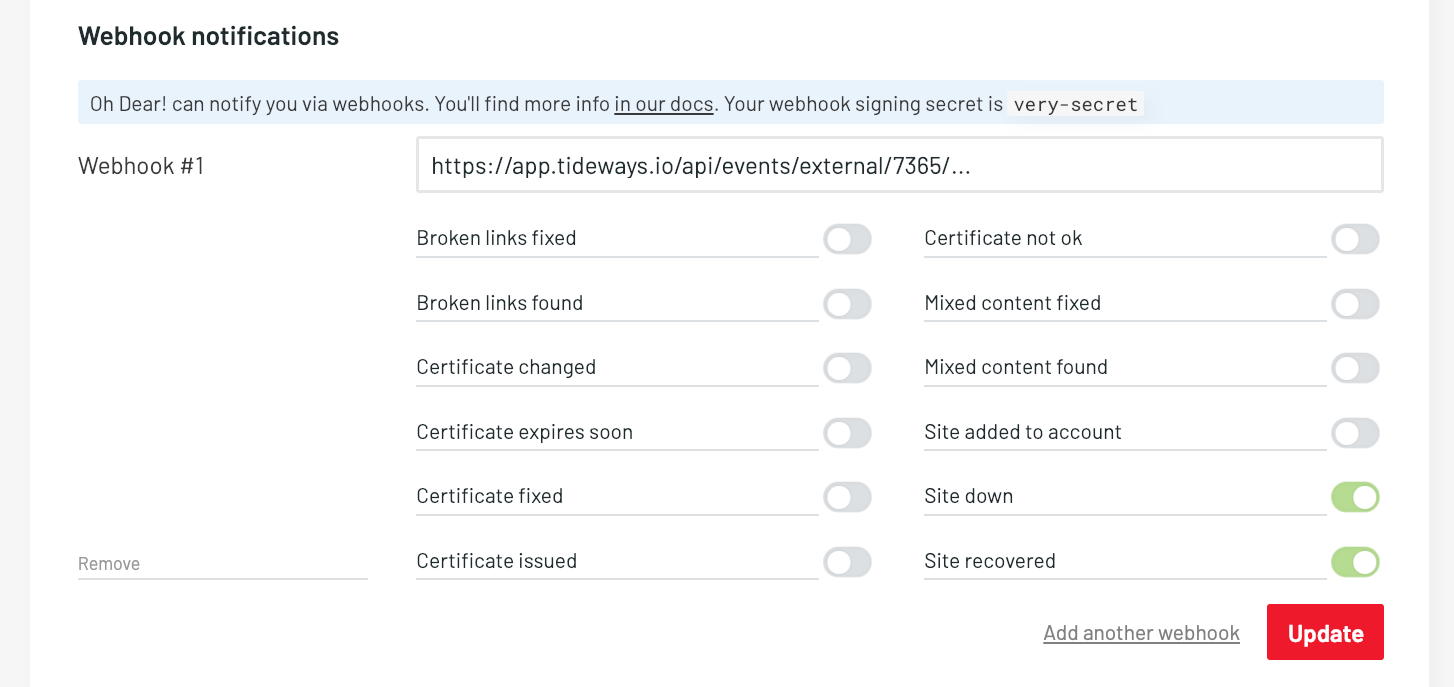 Once this webhook has been configured to receive both the up- and down events, Tideways can show these in their dashboard.
We strongly believe in the power of combining event information in a single display. This can help users more easily correlate events and find the root causes of downtime alerts.
Thank you Tideways for integrating Oh Dear! into your services!
Want to give it a try? Both Tideways and Oh Dear! have free trial options. :-)