Create your first Oh Dear status page
When you are logged in to your account, head over to the status pages tab in the top level navigation.
If you haven't created a status page yet, you'll be prompted to create your very first status page.
A unique slug for your status page
Every status page that gets created receives a unique slug. This identifier can be used to load your status page. The final URL for your status page will be something like https://ohdear.app/status-page/oh-dear-status-page.
It will allow you to create or share your status page, even without attaching a custom domain name to it. It's great to preview a status page before opening it up to the wider public.
A custom domain name
Most users will want to run these status pages on their own domain. We dedicated an entire chapter to this, so please see the custom domain page.
Sites
Per status page, you can determine which websites should be included.
You can create status pages with a single website or add them all. You can add a site to several dashboards, if you like. You're entirely free to configure them as you see fit.
Most users create a status page per website they monitor. This is a great option if you're a web agency and want to give each of your clients their very own status page.
Additionally, if you create a status page with all sites on them, it makes for a great wall-mounted TV dashboard in the office, offering a birds-eye view on the health of all your sites.
Auto-updates based on uptime monitoring
We can update your status pages automatically for you, if you'd like. Oh Dear is an uptime monitor, after all.
If the auto-updates option is enabled, we will automatically report downtime to the status pages. You control the message we post, by using the :site placeholder.
For instance, if you configure the following Down-message:
We are aware 

:

site seems to be down

.

 Our engineers are working 

on

 the fix

.



... this will be translated to this, when we post it on your status page:
We are aware ohdear

.

app seems to be down

.

 Our engineers are working 

on

 the fix

.



The message will be posted on every status page that included that website.
You can make the text match & feel the tone of voice of your brand.
Showing uptime history
By default, a status page will show 3O days of uptime history on the status page. For each day, the total downtime of that day is shown.
You can disable showing uptime history in the "Sites" > "Uptime history" page of your status page.
Password-protect your status pages
By default, our status pages are open to the public. Everyone that knows the URL, can visit it.
Optionally, you can add a secret in your status page settings. Only if you know this secret will you be able to access the status page.
To configure this, head over to the Status Pages menu item at the top. Find the status page you'd like to edit, go to Settings and at the bottom you'll see the Secret option.
Once enabled, you'll have to provide the secret in the URL in order to visit your status page. This allows you to still show the status page on a TV/Dashboard or provide a link to your clients, as the URL with the secret in it can be transferred easily.
Showing uptime history
In the settings of a status page, you can choose to expose the history of the last 60 days, or hide it.
By default, we'll show the graph with your historical uptime, but you can disable or tweak this as you see fit.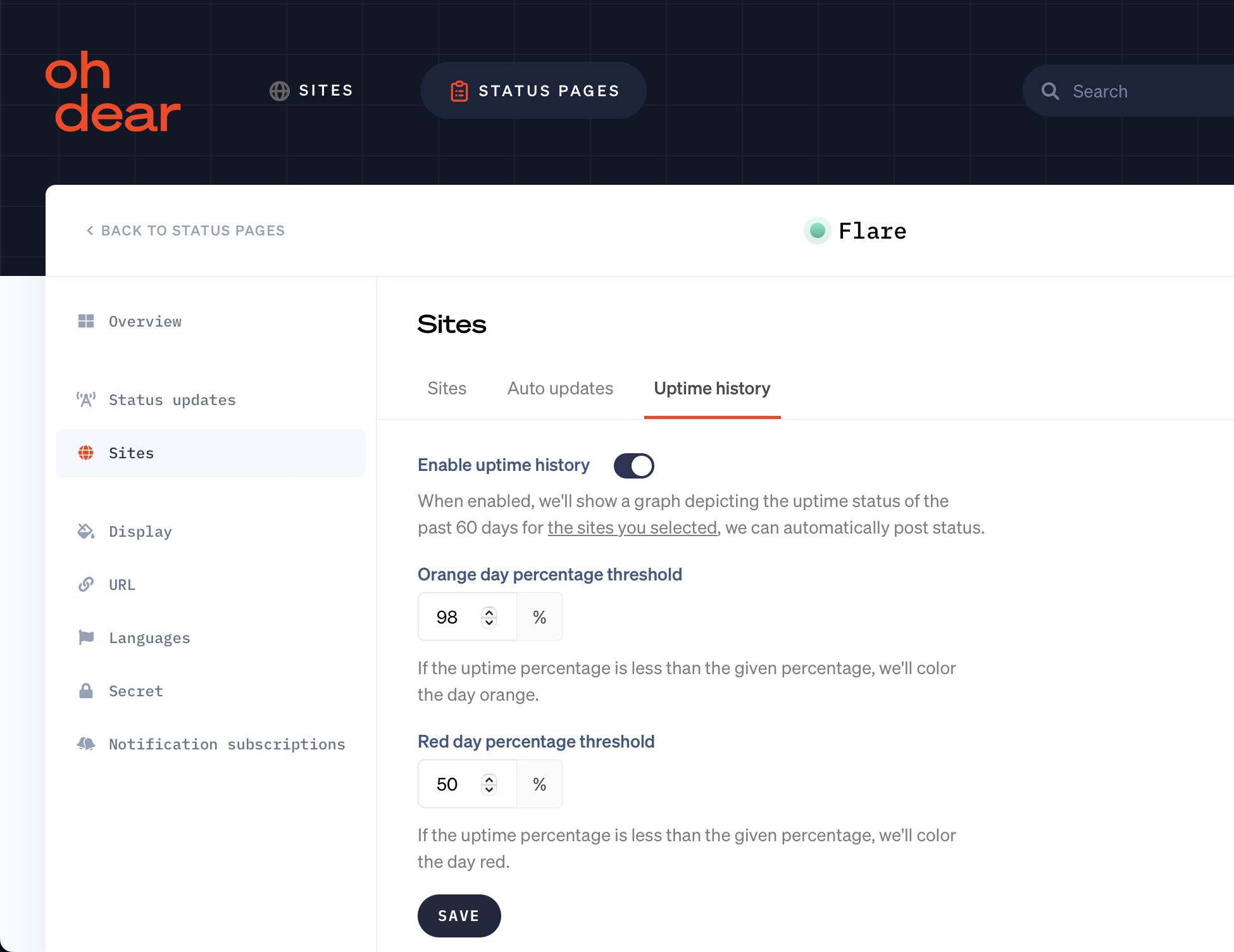 You can decide what the parameters should be to colour a day green or orange.
Was this page helpful?
Feel free to reach out via support@ohdear.app or on Twitter via @OhDearApp if you have any other questions. We'd love to help!